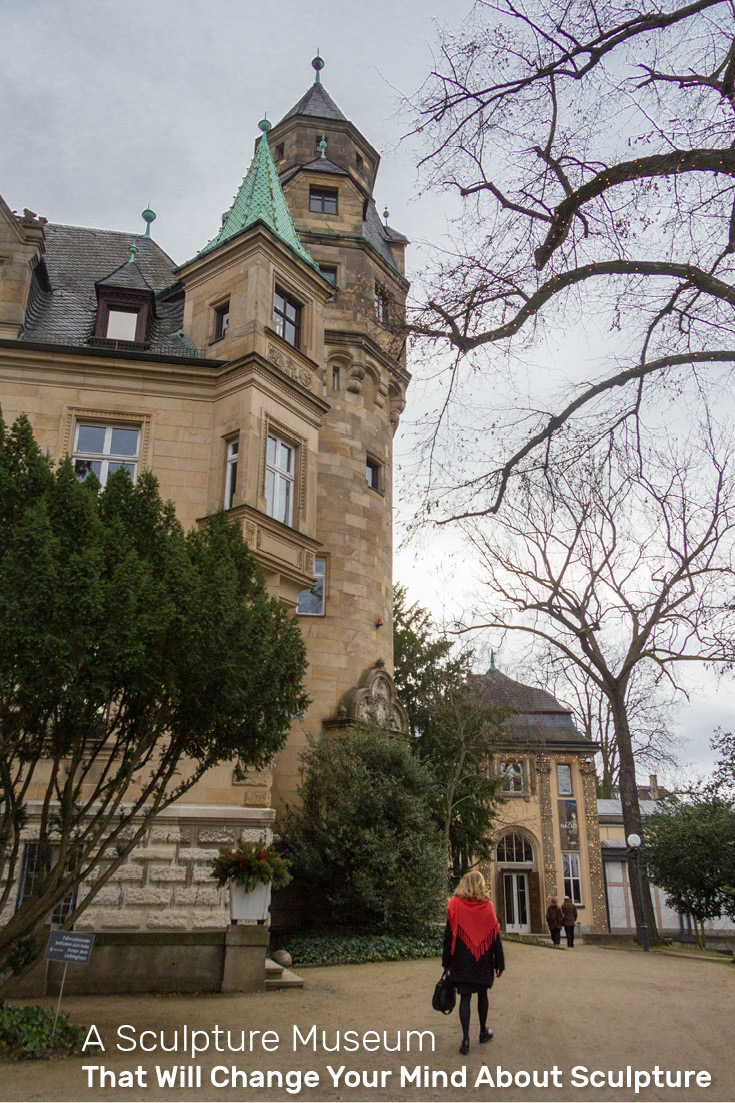 When visiting the Liebieghaus Skulpturensammlung, you feel as if you're visiting a noble German uncle that you've heard so much about. Along the river Main in Frankfurt, Germany, the museums are lined up neatly in a row. Most were obviously homes at one time. Through an iron gate, you walk along what was once a driveway towards a 'villa', what to me seems like a mansion, but ok. In such a big city as Frankfurt, there is a surprising expanse of green grass and landscaping in front. There are outdoor sculptures nestled amongst the trees and shady areas of the yard, distracting the visitor from the front door.
Gründerzeit Architecture
The museum building is a work of art as well. The villa was designed by Munich architect Leonhard Romeis between 1892 and 1896 for the textile manufacturer Heinrich Baron von Liebieg (where Liebieghaus gets its name). The architecture style is called Gründerzeit, which translates to Founder's Period. During that time, urban housing in Austria and Germany was booming, and entire streets of town homes were being built four to six stories high. Historic periods such as Classical, Gothic, Renaissance, and Baroque were all being emulated and blended together as part of the larger Historicism movement of the era. In the Liebieghaus in particular, the architect Romeis blended South Tyrolean and the Bamberg Renaissance, and various other styles. What better stage to curate a sculpture museum that covers 5,000 years of history, from Ancient Egypt to Neoclassical than in a villa that was lovingly designed to honor those periods. It's a happy synergy.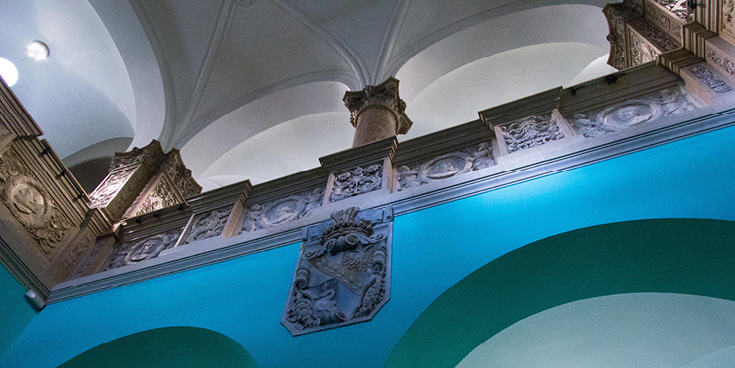 Don't Repeat My Mistake
I tend to overlook sculptures when I'm in an art museum, so I dismissed visiting the Liebieghaus, an art museum dedicated solely to sculpture, in Frankfurt am Main for years. Over time though, repeatedly the Liebieghaus would come to my attention, either in rave reviews of guide books or from Frankfurt natives. All reports declared that it was exemplary and not to be missed. Eventually, my curiosity got the better of me. I was admittedly starting to feel guilty after I've visited neighboring Staedel Museum five-six times in the interim! You can read How the Staedel Museum Stole My Heart here if you're curious.
Now, I'm going to be another voice singing the praises of this museum.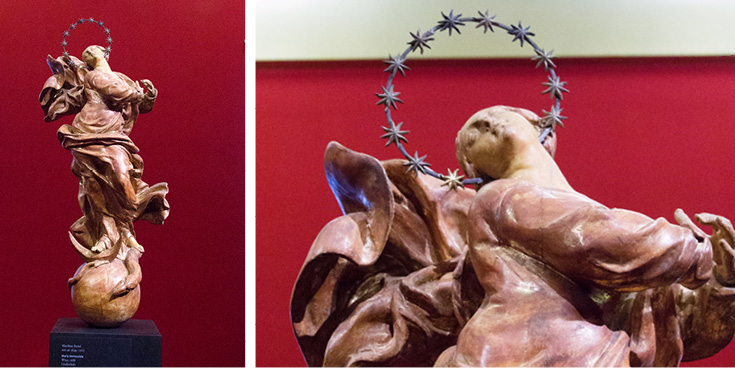 Why? Maybe it's because with only sculptures on display it's easier to absorb them without being distracted by paintings on the wall. Perhaps the dramatic wall colors and high contrast lighting really brings the sculptures to life? In an art museum with both paintings and sculptures it's hard to light both mediums dynamically.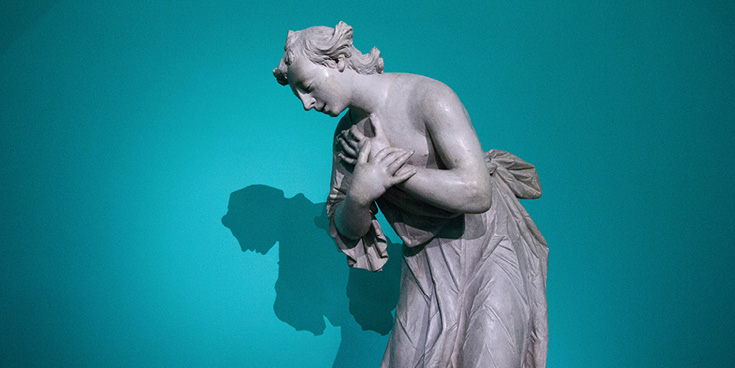 Regardless, I wasn't bored, and neither was Sebastian. The museum is the right size, cozy yet grandiose, and you can see a majority of the collection in one visit. The signage is predominately bilingual, German and English, which helps so much. If there's a special exhibition currently running, be sure to check out the exhibit's Digitorial online to learn more about what you'll see. For example, this is what is currently running, Between Definite and Dubious.
Gods in Color
The Liebieghaus collection is the proud parent to a traveling exhibit that has been touring museums all over the world for fifteen years. It dispels the commonly-held belief that classical sculpture from Ancient Greece and Rome have always been white marble. Science and extremely lucky archaeological discoveries have been able to prove otherwise, and the Liebieghaus has gone to such lengths as to present actual-size reproductions in the 'original color format' next to the surviving, authentic pieces as part of the museum's permanent collection.. Wow are they bright! It's shocking to see! Here's the museum's Digitorial about the exhibit Gods in Color.
Neoclassical Ariadne on the Panther
I'm a cat person. Undeniably my jaw dropped when I saw Ariadne on the Panther. Arguably the most famous and celebrated sculpture in Frankfurt is the Neoclassicist Johann Heinrich Dannecker's Ariadne on the Panther, a visual play of beauty and mankind conquering wild nature. The Liebieghaus shared the history and restoration of this beloved piece on their blog, The Ariadne File.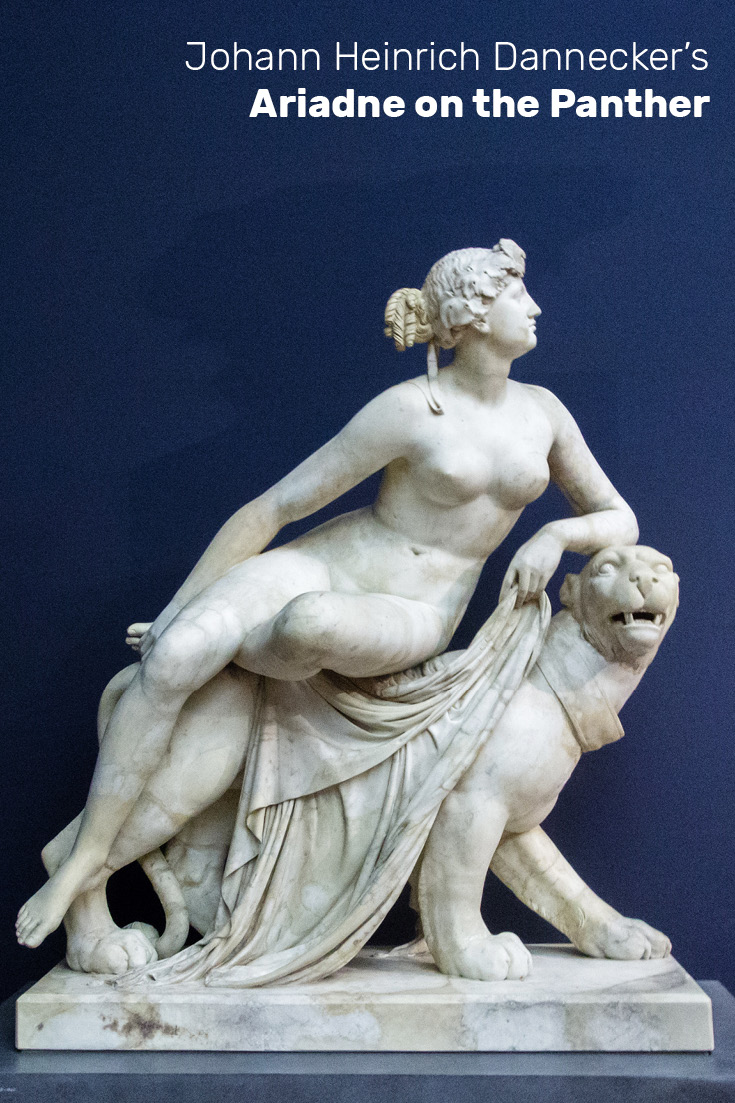 Ancient Egypt
I was most excited to see the collection from ancient Egypt, and it lived up to my anticipation. I loved how the museum positioned the mummy lids so that you can see inside the lids as well as the exterior.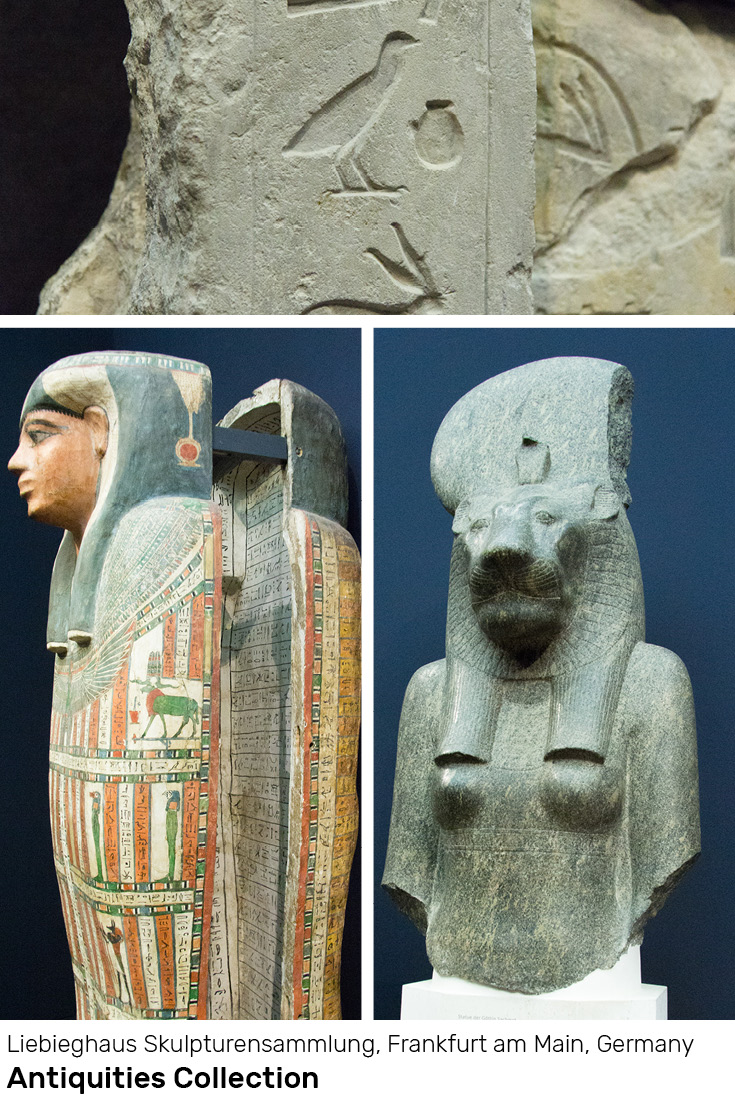 I didn't expect to see paintings on wood panels from that time period. It's a marvel that such fragile materials survive for so long! During Greek and Roman rule in Egypt, mummy burial customs adapted the ancient Greek painting style into an additional element, a painted portrait on wood panel of the deceased enclosed with the body.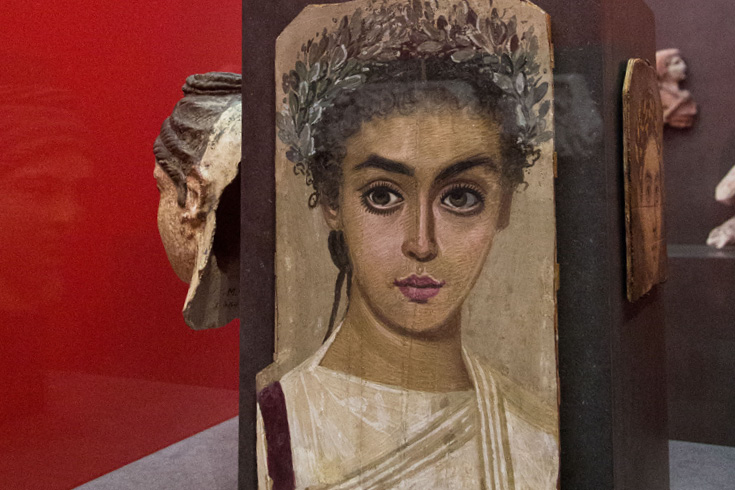 One More Thing
You have to see the conservation and restoration workshop video posted by the museum, it's incredible, and has English subtitles!
Have You Been To the Liebieghaus? Have you ever put off a museum only to regret not seeing it sooner when the time came? Let us know in the comments.

Follow Along
If you enjoyed this article, or these topics sound interesting to you, you'll love our weekly newsletter. You'll receive the newest posts each week and exclusive access to free planning resources like 'Packing List & Tips for 2 Weeks in Germany' and 'Everything You Need to Rent a Car in Germany'.

Thank you for reading!