Bose QuietComfort 35 Review
For several years I had seen noise-canceling headphones at our local Best Buy, who had several headphones on a testing display. While Denise was looking at the movie selection, I played with the noise-canceling headphones, fascinated like a child. I have always bought headphones in the $35 to $50 range, because I could never justify the tenfold price for the Bose headphones with noise-canceling technology for flying only a few times a year. However, I kept looking at the weekly ads every now and then, hoping that the price would drop or they would announce a special doorbuster sale. Anyone who has already purchased Bose products knows that Bose has solid pricing and special offers are unfortunately extremely rare.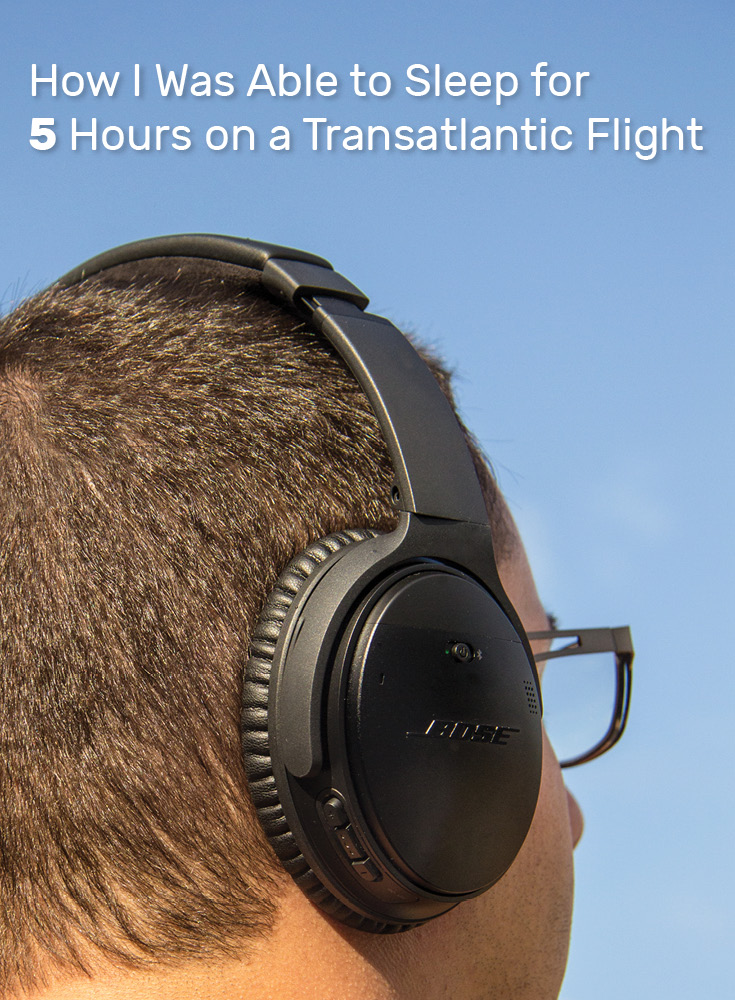 My Best Sleep on a Transatlantic Flight Ever
When Bose announced that their new wireless headphones with noise-canceling technology would be released in June 2016, I was thrilled and kept watching early Youtube review videos. In 2016 we also happened to fly to Germany on my birthday and Denise surprised me with the headphones right before the flight. You can imagine my excitement, even though I had to tame myself not to bounce up and down the plane aisle. This was also the first flight where I slept 5 hours just listening to an audiobook. I rarely get more than 2 hours of sleep on the nighttime flight across the Atlantic, so I can definitely tell you that the technology works. As soon as I put on the headphones and paired them with my phone, the cabin noise was muffled down to a whisper. Even during the flight, the constant drone of the engines was only about 15% audible. Several times Denise tried to talk to me and had to repeat herself, because I simply could not hear her the first time around.
After testing the headphones for several months now I am still impressed by the sound quality, noise cancellation and fit, which is why I wanted to share my thoughts.

How Does Noise-canceling Work?
Noise-canceling technology tries to reduce the surrounding ambient noise to a minimum. Behind small openings on the outer side of the headphones, the QC 35 contains small microphones, which record the frequencies of the environment. The speakers inside send a compensation signal in the direction of the ear. The ambient frequency and the compensation signal resemble each other and can almost completely eradicate ambient noise, which is no longer perceived as a disturbance by the brain. The noise-canceling function is clearly the highlight of these headphones. It tunes out the constant drone of an airplane and most noise around you, with the exception of high, shrill voices and sounds.
First Impression
I loved the Bose QuietComfort 35 headphones immediately after unpacking. The main components are made of plastic, reinforced with stainless steel elements and covered with Alcantara, a manmade, suede-like material. The headphones feel high quality and provide great wearing comfort. They are so-called over-ear headphones that surround the ear completely, which I had to get used to a little bit. My former headphones were in-ear headphone plugs, that also helped to suppress . surrounding noise, but never had a noise-cancellation feature. To my surprise, these new Bose headphones are designed in such a way that they do not cause headaches from pressing on your head too much or "hot" ears from wearing them too long.
What's in the Box?
In addition to the headphones, a travel case, an aircraft adapter, a micro USB cable for charging, as well as an audio cable are included. Here as well, a high quality of production is seen in all parts.

Technical Things to Know
The QC 35 are Bose's first noise canceling headphones, which can also be connected wirelessly. This is possible via Bluetooth as well as via NFC (Near-field communication). Wirelessly, you can easily switch between two permanently connected devices, which is great when you listen to music on the laptop and then take a call on the smartphone. The music playback will pause until you hang up the call, then continue afterwards. Up to six connections can be stored and, to better organize all your connections, Bose provides an app for iOS and Android.
The built-in Li-Ion battery holds 20 hours in cordless operation according to Bose. Tied to a cable, the battery lasts for 40 hours - all while providing noise canceling.
The sound quality of the QuietComfort 35 headphones is at least as good as the noise reduction. The sound characteristics come with powerful bass, which was never overpowering. I caught myself several times hearing many small subtleties on my favorite albums, which my in-ear headphones never picked up. Bose has also incorporated a sound correction that slightly increases the bass and treble at low volume to create a more balanced listening experience. Even when the noise canceling is switched off, the headphones display excellent sound quality.
Control Panel
The three buttons on the back of the right headphone are for controlling the volume and interact with the connected devices. They are mounted in a good position and can be operated intuitively. The built-in microphones offer a very good voice reproduction during telephone calls. All the people I've called with the headphones could understand me perfectly well.
What's Not to Like?
With all the praise for these headphones, there are very few critiques that come to mind. One of them being that the battery of the QC 35 is permanently installed and can not be replaced by the customer. If I want to use the headphones for many years, I doubt that the battery will last for as many hours as it did when first bought. The second point of criticism has to do with the battery again. While charging the headphones, the noise-cancelling technology is switched off.
And lastly, these headphones are pricey and not something that most of us just grab at a store and take home. If you want to test them out and hear the difference for yourself, check out an electronics store around you and look for the Bose display in the headphone section.
Verdict
At the high price level, I expect perfection from headphones. The noted criticisms are minor, and can be easily overlooked, since the overall product is perfect. I am sure you will enjoy a pair of Bose QuietComfort 35, especially when traveling. They will make you feel like you have the whole plane to yourself and hopefully give you many hours of sleep on your flight.
Follow Along
If you enjoyed this article, or these topics sound interesting to you, you'll love our weekly newsletter. You'll receive a free Germany Packing list for signing up, and you'll receive each week's newest posts every Friday. Thank you for reading!