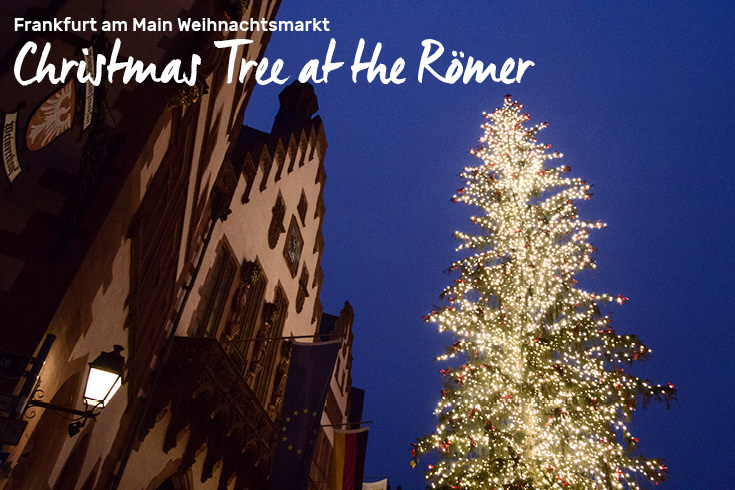 Last year was my first Christmas in Germany, and my first time visiting Christmas markets. I was emotionally surfing between being terrified of the crowds and anxious worrying whether I'd be warm enough to have a good time to bubbling to delirium level of excitement to drink authentic Glühwein and see a new facet of German culture I'd heard so much about. All of our friends and family wanted to take us to a Christmas market, so we ended up seeing four in 2017: Frankfurt am Main, Michelstadt, Nuremberg, and Hanau. I'll share my favorite photos from each throughout this post.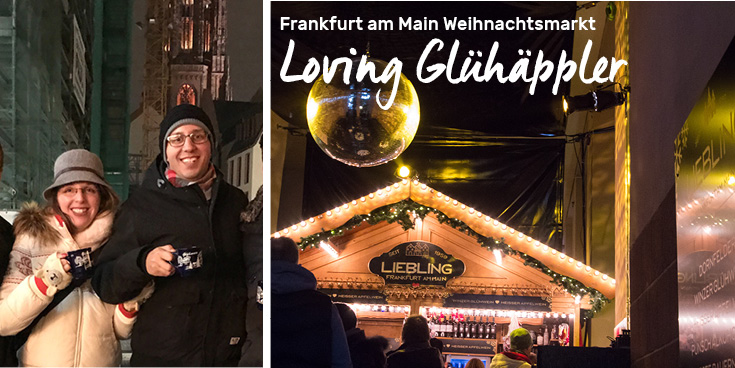 What to Wear to German Christmas Markets
As a Florida girl, I have thin blood to begin with. Anything 60 degrees Fahrenheit and below and I start layering. This is exactly what I ended up doing for the Christmas markets. I tried fleece lining leggings from Modcloth, and I could wear those under my straight legs jeans without anyone being the wiser. I really think they were a huge help to keeping me warm. When I put my thick boot socks on, I'd use the elastic from the sock to go over top the bottom of the leggings layer so no skin around my ankles were exposed. I always wore leather boots with two pairs of socks, a thin pair with the boot socks over those. Sebastian brought over air-activated heated insoles for his shoes. I tried them once, and I felt like they got too hot for my preference, but he loved them and used them throughout the whole Christmas vacation.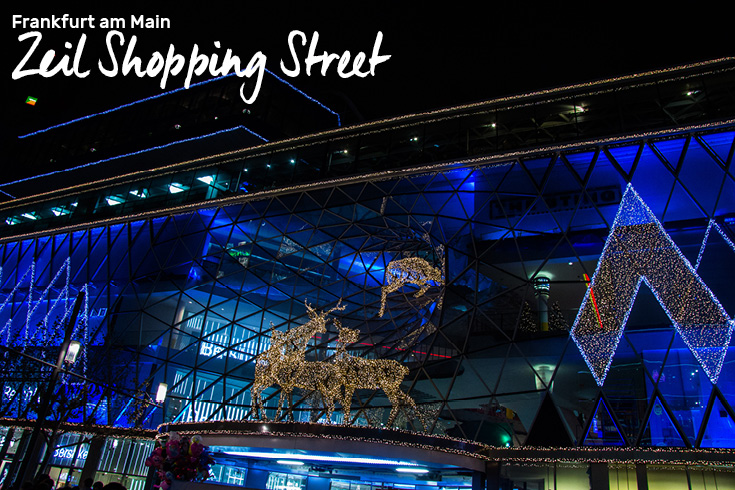 When picking out tops, remember it's unlikely anyone is going to see them! Layer up, and grab anything you have that is thermal. Even though your coat may have a hood on it, look for a winter hat that fits securely on your head. Hoods limit your peripheral vision too much to be practical. Plan on wearing gloves as well, and if you're planning on taking pictures look for the gloves that are convertible between being fingerless and mittens. All this being said, I was NOT miserably cold. I was able to enjoy myself, and of course the hot Glühwein (pronounced glue-vine) helped!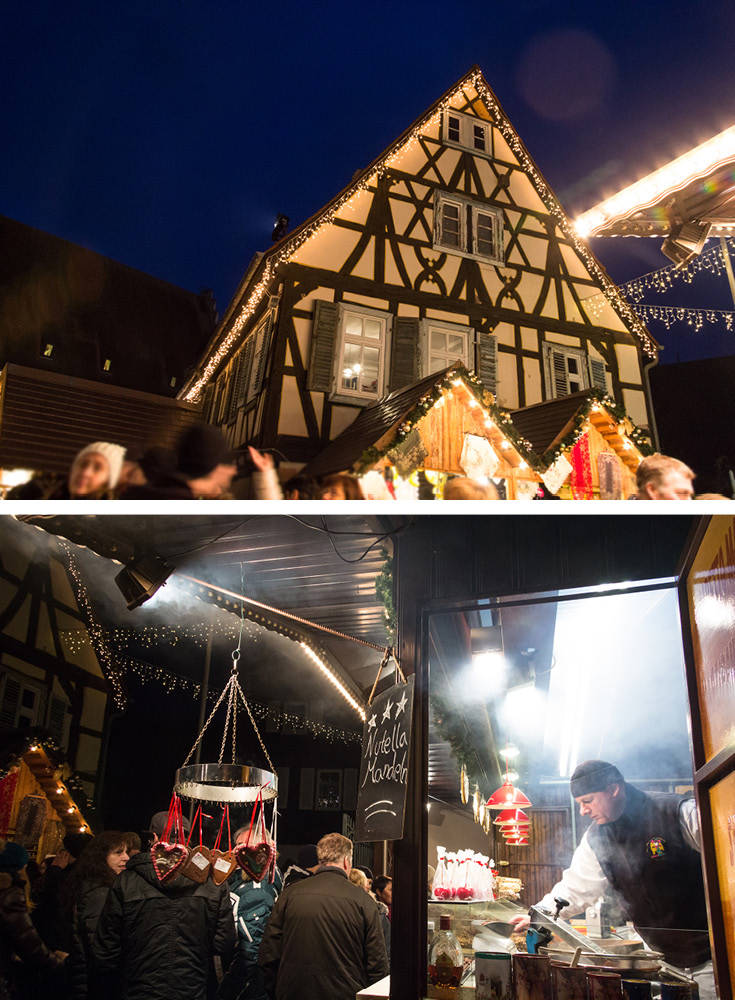 What to Drink at German Christmas Markets
Speaking of Glühwein...this hearty hot, spiced, mulled wine is the starlet beverage of the holiday season. Some Christmas markets, like Nuremberg's, the Glühwein is regulated, and all of the booths offer the same make. If you see a particular stall that has a longer line, don't be fooled into thinking their Glühwein is better. In Nuremberg they're all from the same manufacturer. But, other markets like Michelstadt you see the Glühwein is being freshly made in the background out of a slow cooker labeled Glühwein! It depends on the market you're visiting. In Frankfurt am Main, they offer a hot, holiday version of their Frankfurt Äppler, called Glühäppler. Basically hot cider, which sounds odd at first, but tasted amazing.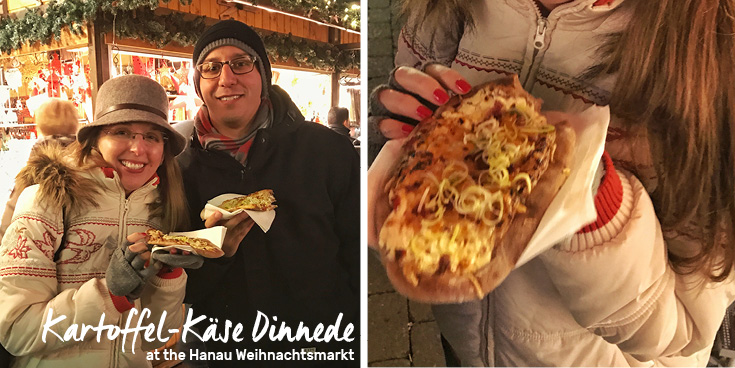 What to Eat at German Christmas Markets
Definitely go to the Christmas Markets hungry! There's a breadth of choices. Michelstadt really pushes their boar specialities, Hanau we were encouraged to try (and we loved) the Kartoffel-Käse Dinnede. It's a type of flatbread pizza with sour cream, potatoes, and onions grilled. A safe bet is a Frikadellenbrötchen, a German meatball nestled into a sourdough bread roll. It's not messy to eat, and easy on the stomach for a night of drinking Glühwein.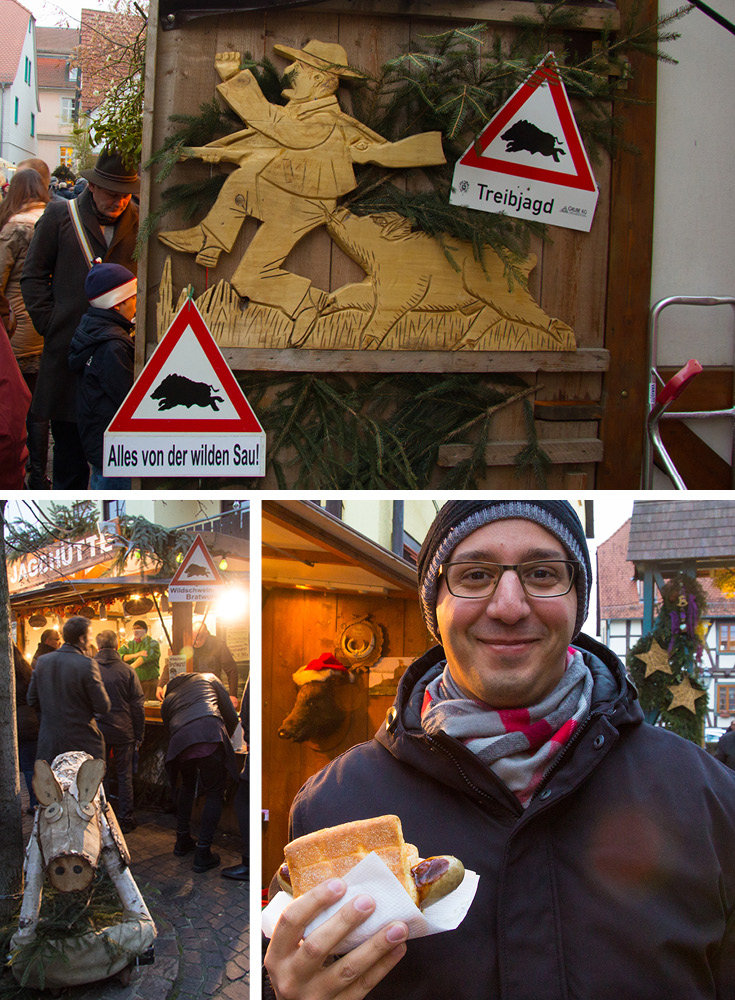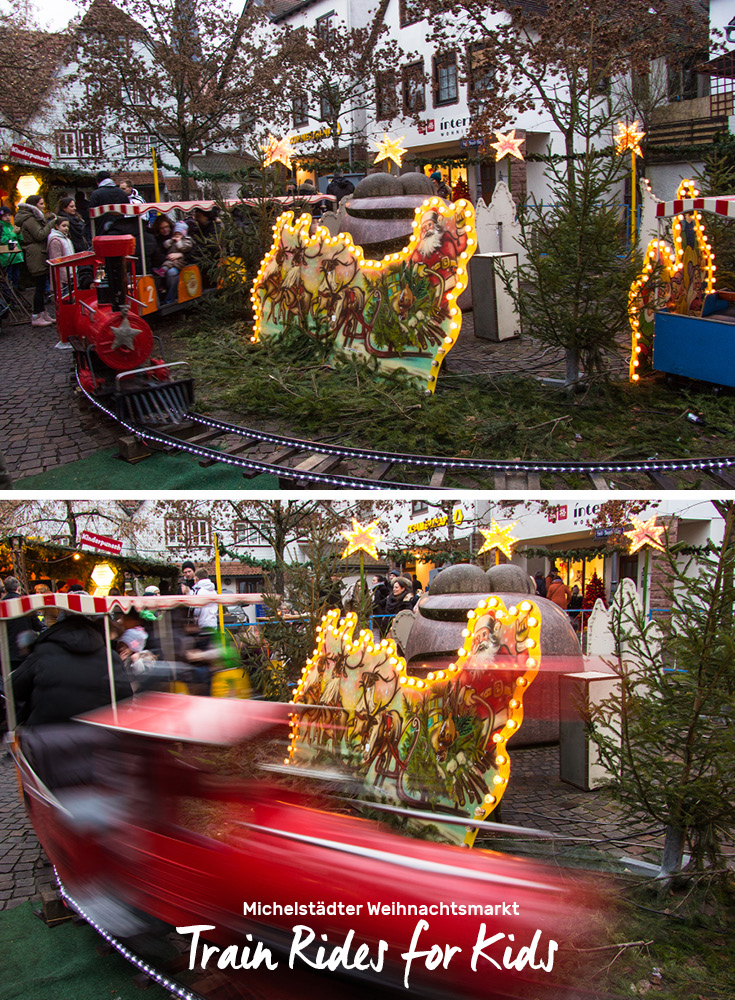 Personal Safety at Christmas Markets
When planning a fun, festive night out at the markets pick a meeting spot within the market in case someone gets separated in the waves of crowds, and pick a meeting spot outside the market in case of an emergency. Sebastian and I were at the Nuremberg Christkindlesmarkt the same night there was an attack at the Berlin Christmas Market. Overnight the security drastically changed in Nuremberg. Where there were open streets the night before, by morning large police vehicles and fire trucks were parked along any open area in order to shield the market area from attackers hoping to use vehicles for mass-harm. Don't let fear keep you from the markets, but do be safe, smart, and plan ahead!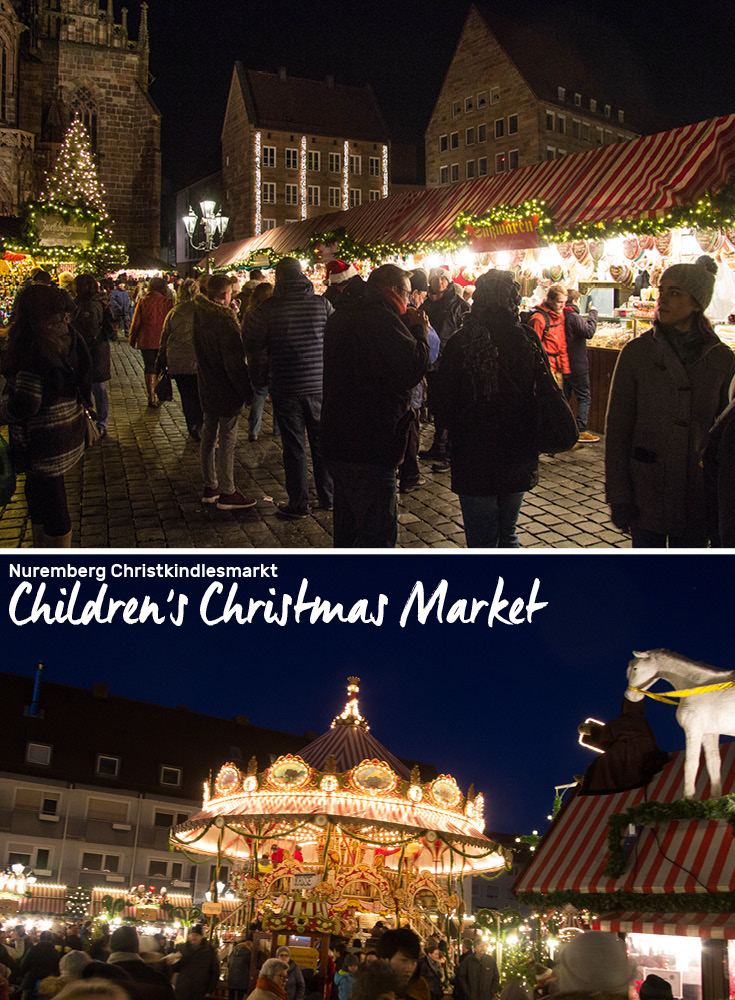 Star Attractions
Each Christmas market we visited offered exclusive events or experiences in order to distinguish themselves from other markets. Nuremberg has the Christkind legacy, a special childrens' market, a global market, and strict standards on booth decorations in order to keep the market feeling traditional. Frankfurt am Main has coordinated ringing of the Church bells, a stunning decorated tree in front of the Römer, carolers singing from the rooftop of the church, and alternative smaller markets within the city's market. Michelstädt's and Hanau's star attraction is a larger than life Christmas pyramid while you stroll through the tiny cobblestone streets.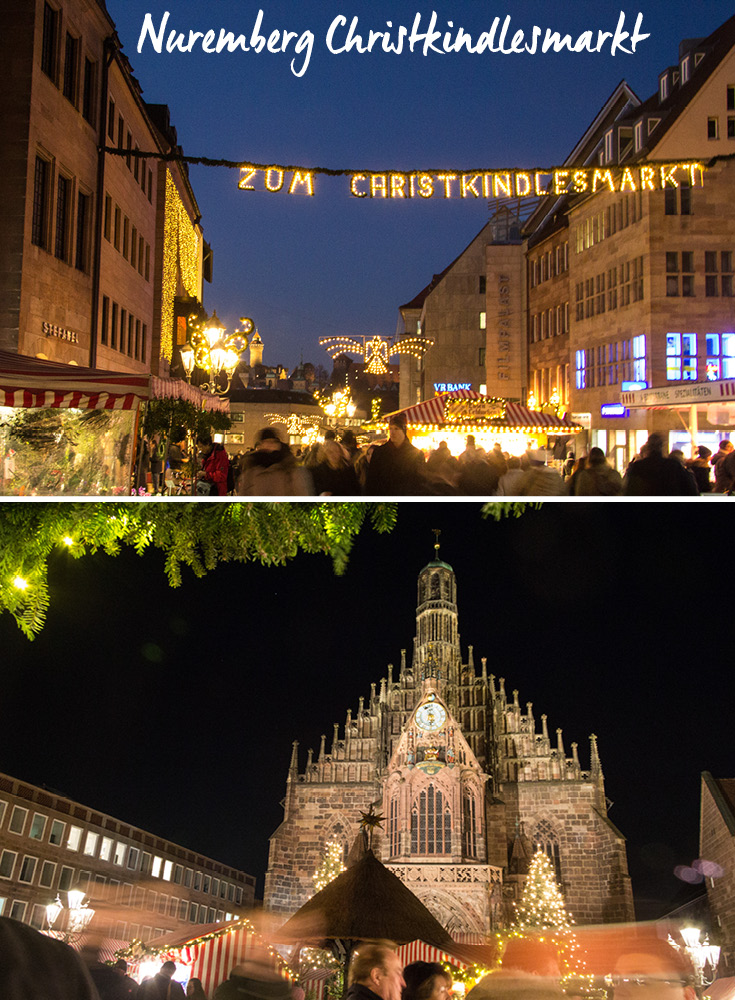 Craving Christmas Markets
I really fell in love with Germany's Christmas markets, and sorely miss them this year. I wonder why they haven't taken off in the United States? If you're looking for ways to bring German Christmas spirit home with you, read our earlier article here. Are you going to visit any German Christmas Markets this year? If you have any questions, we'd love to help! Leave a comment below or send us an email.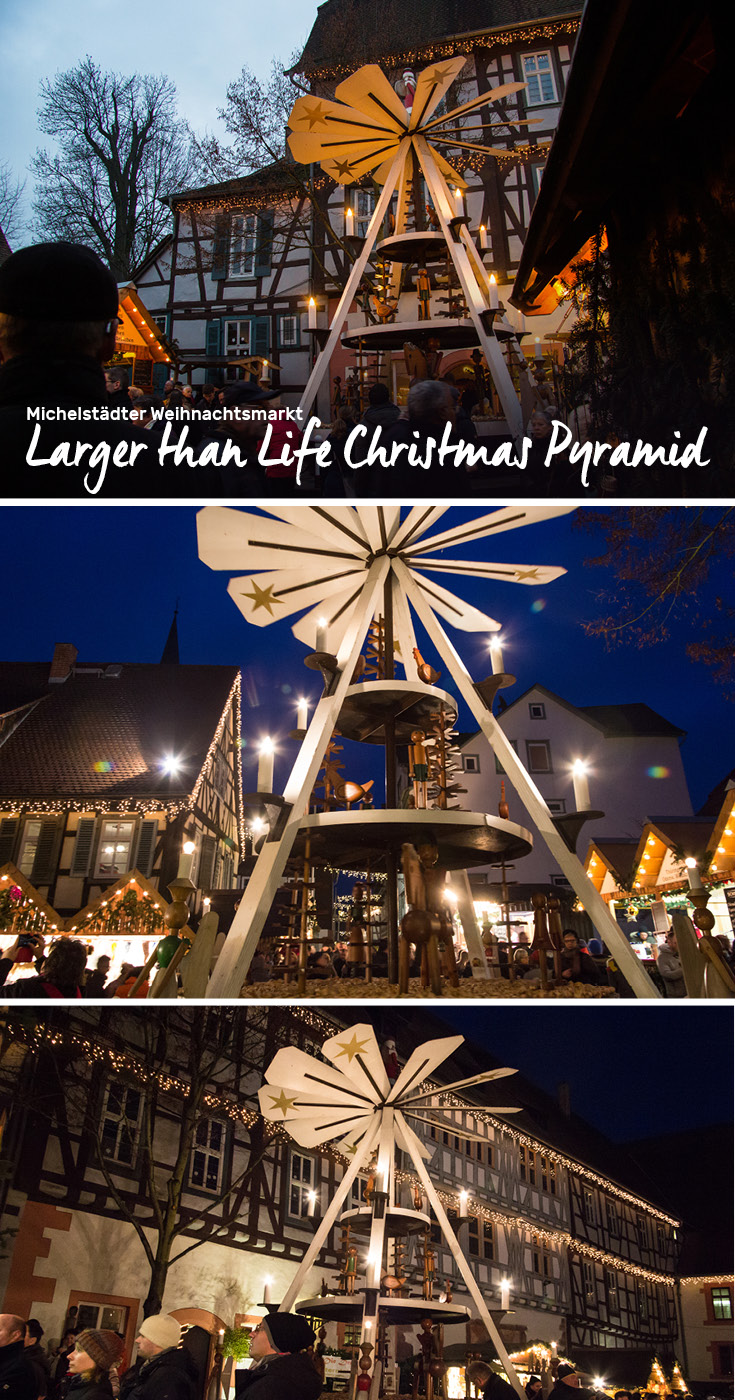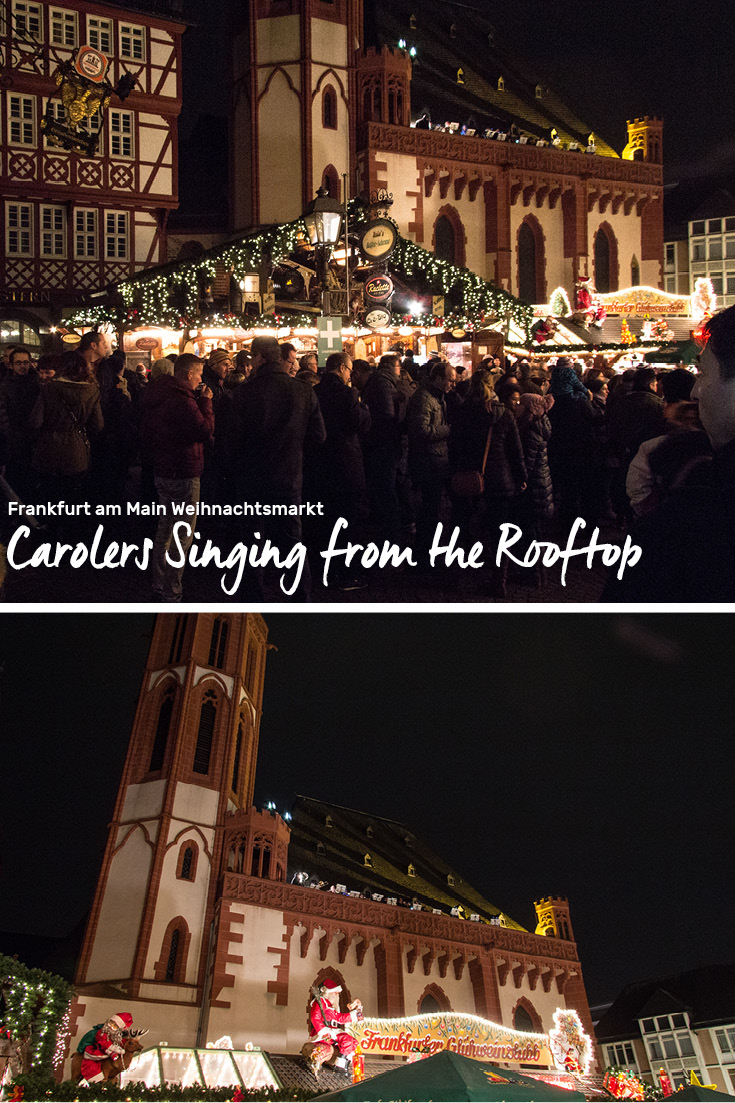 Follow Along
If you enjoyed this article, or these topics sound interesting to you, you'll love our weekly newsletter. You'll receive the newest posts each week and exclusive access to free planning resources like 'Packing List & Tips for 2 Weeks in Germany' and 'Everything You Need to Rent a Car in Germany.

Thank you for reading!