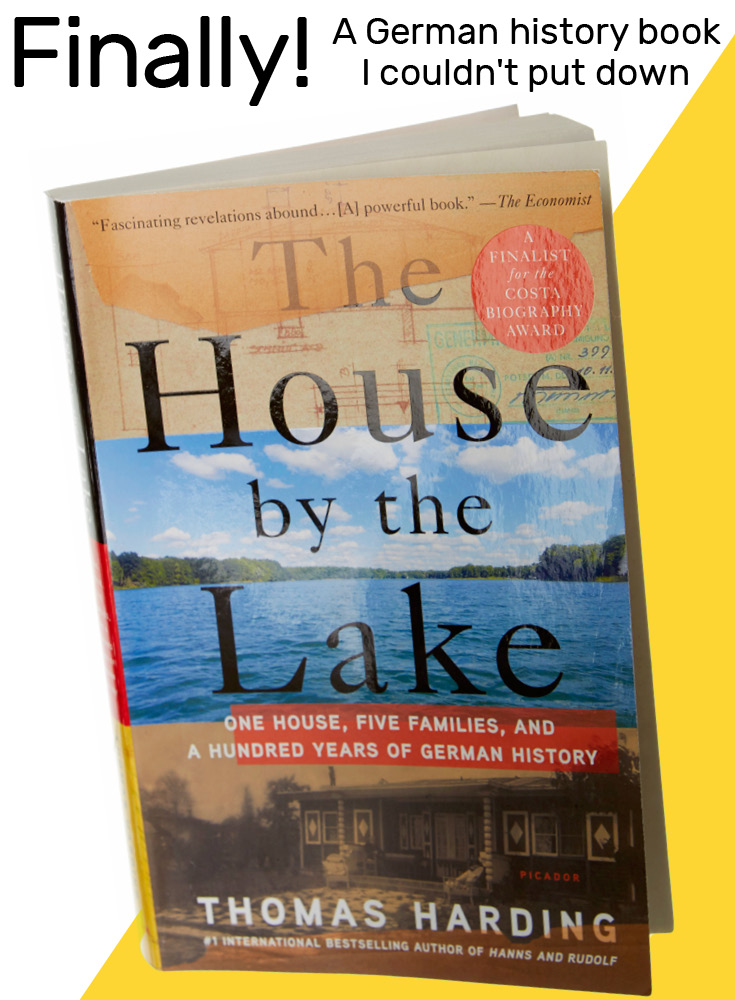 Disclosure: Please note that some links are affiliate links, and at no additional cost to you, we earn a commission if you make a purchase. I recommend this book because I loved it. I was not asked to review this book, and I purchased my own copy. If you are ready to buy a copy, and would like to support this website in some way, using these links will help do exactly that.
Finally! A German history book I couldn't put down. I'm not kidding. I read it in one week. I've been on a literary quest for a year to try and teach myself the history of Germany, and I'm here to proclaim to anyone on the same lifelong learning journey that you will love The House by the Lake: One House, Five Families, and a Hundred Years of German History by Thomas Harding. And shockingly, despite the history it's covers it has a happy, inspiring resolution.
So, why is it a page-turner? Harding narrates the history of the home and its inhabitants in second person, describing the details in a way that I found myself rooting for the subjects in a way I would a fictional story. The families he describes are three-dimensional, and very human.
A Hundred Years of German History
The House by the Lake covers one hundred years of German history, specifically including World War I, the Weimar Republic, World War II, the GDR, and after the Berlin Wall comes down. Although the topics are complicated and heavy, when it's discussed in terms of one house and how it impacted it's residents, it's easier to empathize and comprehend. Putting a face to history is a great way to make the past come alive. The book is set up so the reader progresses through the history chronologically as the house itself would have experienced it, with the chapters broken up by times and entitled with the family name. Despite there being five families in total, I never once lost track of the names. Intermittently included throughout is, the author's journey and his progress on researching the house. You don't need to be deeply familiar with German history to enjoy this book. Actually, I found myself appreciating Harding's explanations and summaries more than I had in broader Germany-centric history books. He's successfully pared it down in a way that makes sense. Not an easy feat!
I highly recommend this book! This also would be a unique gift idea for someone traveling to Germany. I discovered The House by the Lake on Amazon, and took advantage of the new paperback edition that released this year. If you're interested, you can find it on Amazon here, (available on the Kindle, or in hardcover or paperback) or it can also be downloaded from iBooks®.
Do you have any recommendations for nonfiction books about German history? I'm always looking for suggestions. Leave a comment below or send us an email.

Follow Along
If you enjoyed this article, or these topics sound interesting to you, you'll love our weekly newsletter. You'll receive the newest posts each week and exclusive access to free planning resources like 'Packing List & Tips for 2 Weeks in Germany' and 'Everything You Need to Rent a Car in Germany'.

Thank you for reading!