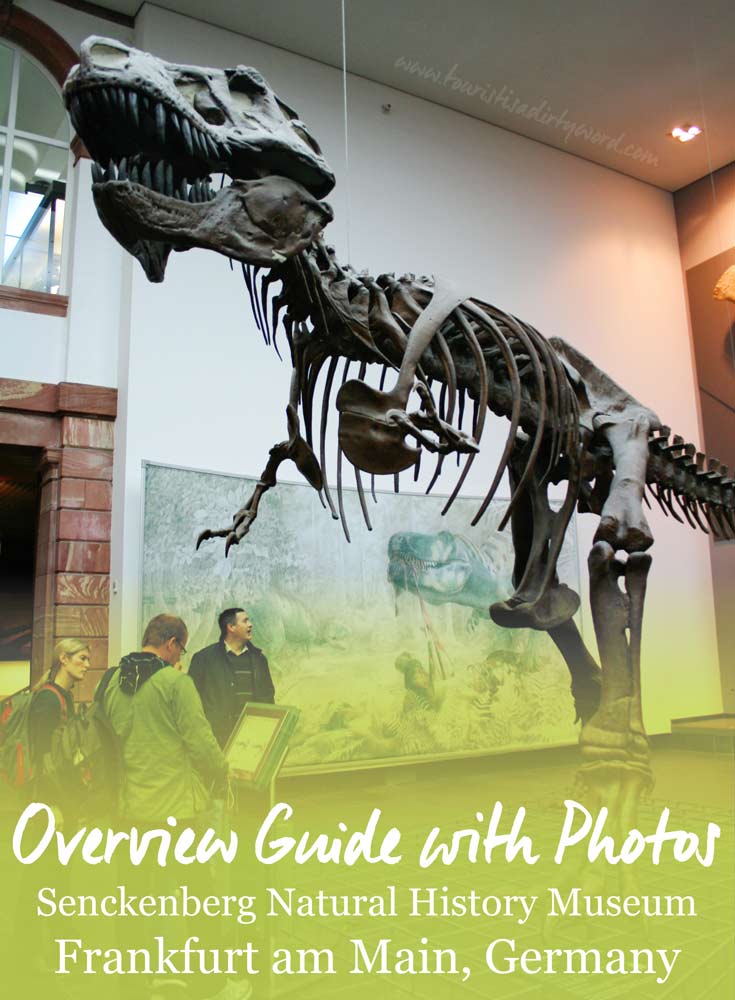 There he was, the granddaddy of all dinosaurs the T-Rex!
We had heard about dinosaurs in class, even looked at them in text books. But to stand right next to the life-size skeleton blew my mind on a class trip to the Senckenberg Natural History Museum in the 1990's.
Our teacher was trying to lead us to the Triceratops, which is on the other side of the well lit entrance hall, but most of my classmates and I only had eyes for the T-Rex, staring at it for several minutes in absolute awe. I do not remember much of the rest of the museum, only the T-Rex was burnt into my memory. And so, years later during a trip to Frankfurt with Denise and my family, we decided to go to the Senckenberg again.
The Senckenberg Natural History Museum is the second largest natural history museum in Germany, beat only by the Museum für Naturkunde in Berlin. Johann Christian Senckenberg, a medical doctor, founded the Senckenberg in 1821. The current museum building, which also houses the Senckenberg research institute, was built in 1907. It is located downtown between the Messeturm, or Trade Fair Tower, and the Goethe University, just look for two life-size replicas of dinosaurs outside on the grassy area to the left and right of the entrance.
What's in the Senckenberg Natural History Museum?
Although its dinosaurs are the major attraction, the Senckenberg Museum also has an expansive collection of animal exhibits, fossils, rocks, and Egyptian mummies. You can find the exhibit showing the mummies right off the dinosaur area and learn all about mummification of not only people, but also cats and other animals. A bit creepy? Yes, but also very interesting. Many exhibits have English translations, and there are leaflets in various languages available for free at the entrance desk.
Another remarkable exhibit is a cast of Lucy, a skeleton of a human from 3.2 million years ago. If bones are not your thing, there is also a space exhibit, a volcanic eruption demonstration, and the largest collection of preserved, stuffed birds in the world, and a 3D map of the world showing the peaks and valleys of the Earth's surface.
You can easily spend the entire day wandering through all the exhibitions, but it is so worth it. When you need a break there is a bistro on floor 2 where we had good food for reasonable prices. The only disadvantage of the is its on the smaller side with limited tables, so try to avoid it at peak dining time.
For more information on office hours and ticket prices, you can visit the official Senckenberg Museum website by clicking here.
Here are some photos from our trip to the Senckenberg:

Never miss a post! Sign up for free updates, once a week. Enter your favorite email address below: