The windows are wide open in the birthplace of Frankfurt am Main's favorite son, Johann Wolfgang Goethe. A cool breeze shimmies its way in, stirring up historical smells. You only hear the sound of the wooden floorboards creaking under your feet and in neighboring rooms, and further away a student tour group is laughing. Ongoing construction site white noise from next door, the soon to be German Romantic Museum, foretells of historical fun to come in 2019.
Why Do You Need a Cheat Sheet to Visit?
There are very few descriptive signs hanging because the nonprofit group, which oversees the Goethe House and Museum, Freies Deutsches Hochstift wants to keep the presence of the house as authentic as possible. This means you need to either do some homework before visiting, succumb to an audio tour for 3 Euros extra, or, split the difference and get the beefier English brochure for 1.50 Euros and use that as your tour guide. Currently there's only German tours on weekends, and no English tours at all.
My American education only mentioned Goethe in passing, and I imagine many others will relate. It seemed as though our English teachers had a hard enough time teaching us Canterbury's Tales, Beowulf, and Shakespeare's countless plays, they didn't quite make it to Goethe's oeuvre.
I've gathered together and simplified what you need to know in order to get the most out of your visit, but I do recommend buying the beefier English brochure. It is well produced and designed, as well as easy to pack and a great souvenir. The brochure goes room by room and discusses more highlights and goes into further detail.
Family is What Makes This House a Home
Johann Wolfgang Goethe and his sister Cornelia grew up in the top tier of Frankfurt's society. They both received excellent, private educations. It was expected that Goethe would be a lawyer like his father before him. He went as far as finishing law school and opening a private practice when his literary career made him a celebrity.
Top 10 Historical Events You Need to Know About the Goethe House
1. Sold | Goethe's grandmother on his father's side (Cornelia Goethe), bought the property in 1733
2. Birth | Johann Wolfgang Goethe was born August 28, 1749
3. Birth | Goethe's beloved sister Cornelia Goethe was born 1750
4. Renovation | Goethe's father (Johann Caspar Goethe) renovated and combined two half-timbered houses into one spacious, Rococo-style home from 1755-1756.
5. French Occupation | Royal Lieutenant François Théas de Thoranc occupied the house from 1759 until 1761 during the French occupation of the Seven Years' War, and had local artists visit to paint for him. As a result, Goethe watched Johann Georg Trautmann work on his Joseph Cycle paintings.
6. Writing | Goethe wrote "Goetz of Berlichingen" in 1773 and "The Sorrows of Young Werther" in 1774
7. Sold | Goethe's mother sold the house, furniture, and her husband's collections in 1795.
8. Sold | The house was acquired in 1863 by the Freies Deutsches Hochstift, "A Society Devoted to the Liberal Arts." They began reassembling and recreating the home's original furnishings.
9. Bombing | After the 1944 bombing raid, the house and Goethe Museum was completely destroyed. Furnishings and objects had previously been evacuated and were saved.
10. Rebuilt | Meticulous reconstruction from 1947-1951 led to the house and museum being reopened in 1954.

Must-See Highlights of the Goethe House By Floor
Ground Floor Highlights
1. Kitchen |The house still has it's original water pump linked to a well in the cellar, pure luxury in a time most households depended on a public well!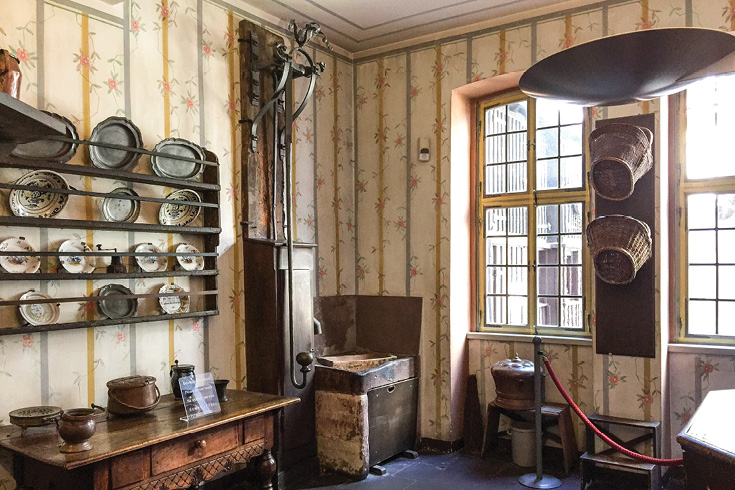 2. Staircase | The first four sandstone steps of the staircase on the ground floor are original, (survived the 1944 bombing.) The massive staircase and spacious landings were part of Goethe's father's renovation. Look for his parents' initials in the ironwork of the railing on the first floor.
3. Blue Room | The framed oilcloth wallpaper hanging on the wall is from the house before the renovation, and allegedly acted as a tarp over the kids' beds in the attic during the construction work.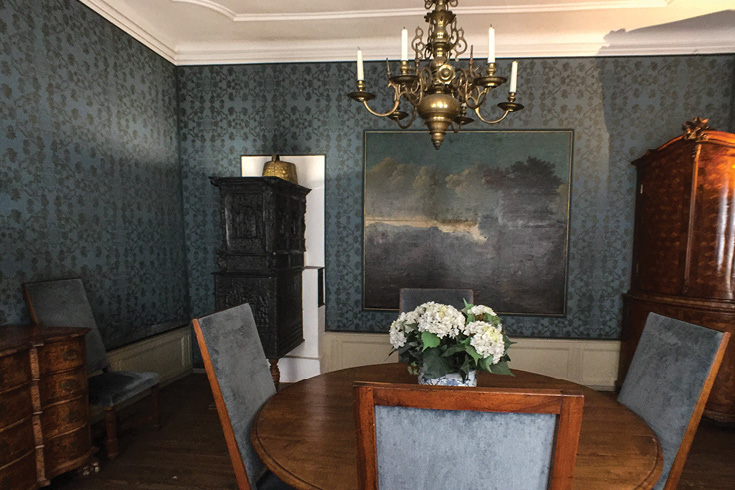 First Floor Highlights
1. Peking Room, also called Red Room | Behold the fabulous loud wallpapers with flowers and animals that imitate Chinese and East Asian styles!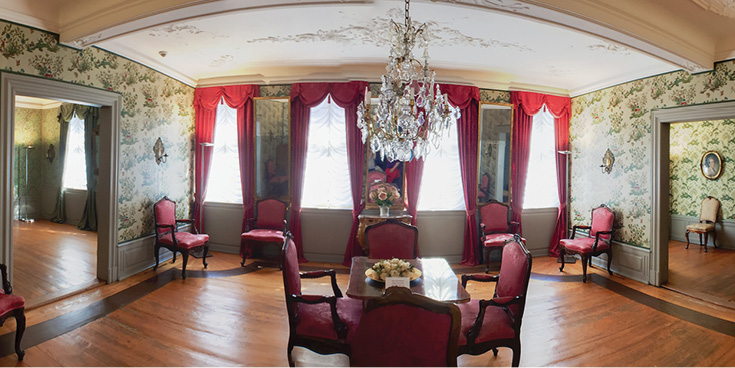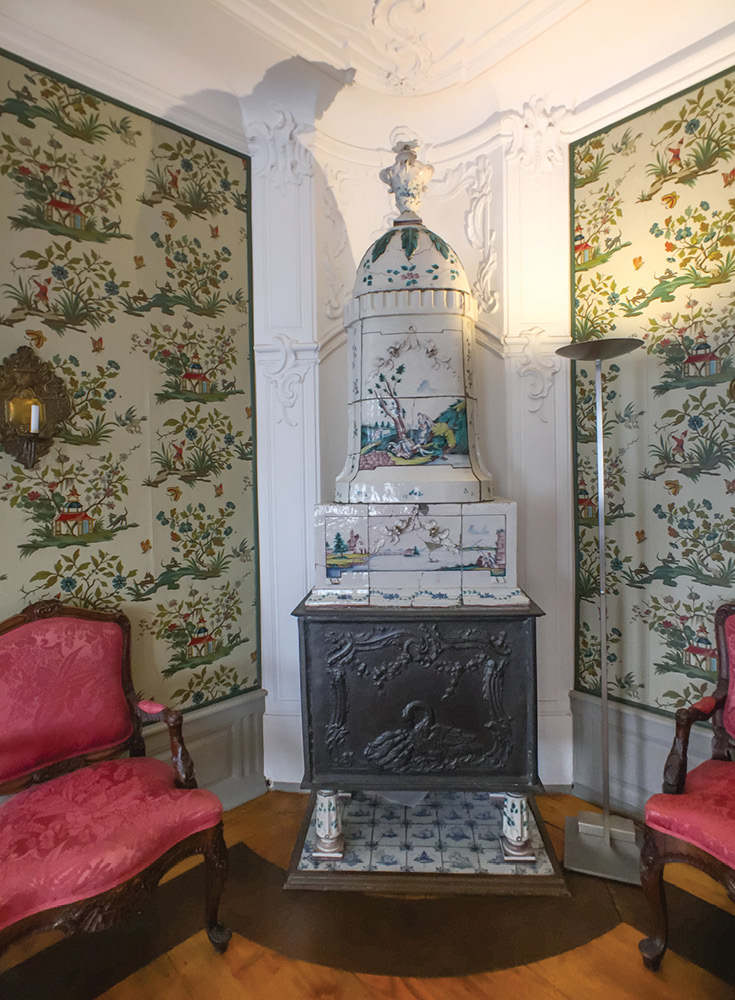 2. The Northern Wing Cabinet | There's a portrait of the French Lieutenant Thoranc who occupied the first floor of the house from 1759 until 1761 during the French occupation of the Seven Years' War.
3. Grey/Music Room | The Goethe family group of four was very close, and music was very important to them. Cornelia (sister) was excellent on the piano, the father played the lute, Goethe played the cello, and the mother sang. Above the red, upright pianoforte is a portrait of the Goethe family by Johann Conrad Seekatz. The five cherubs in the background symbolize the parents' five other children who died very young.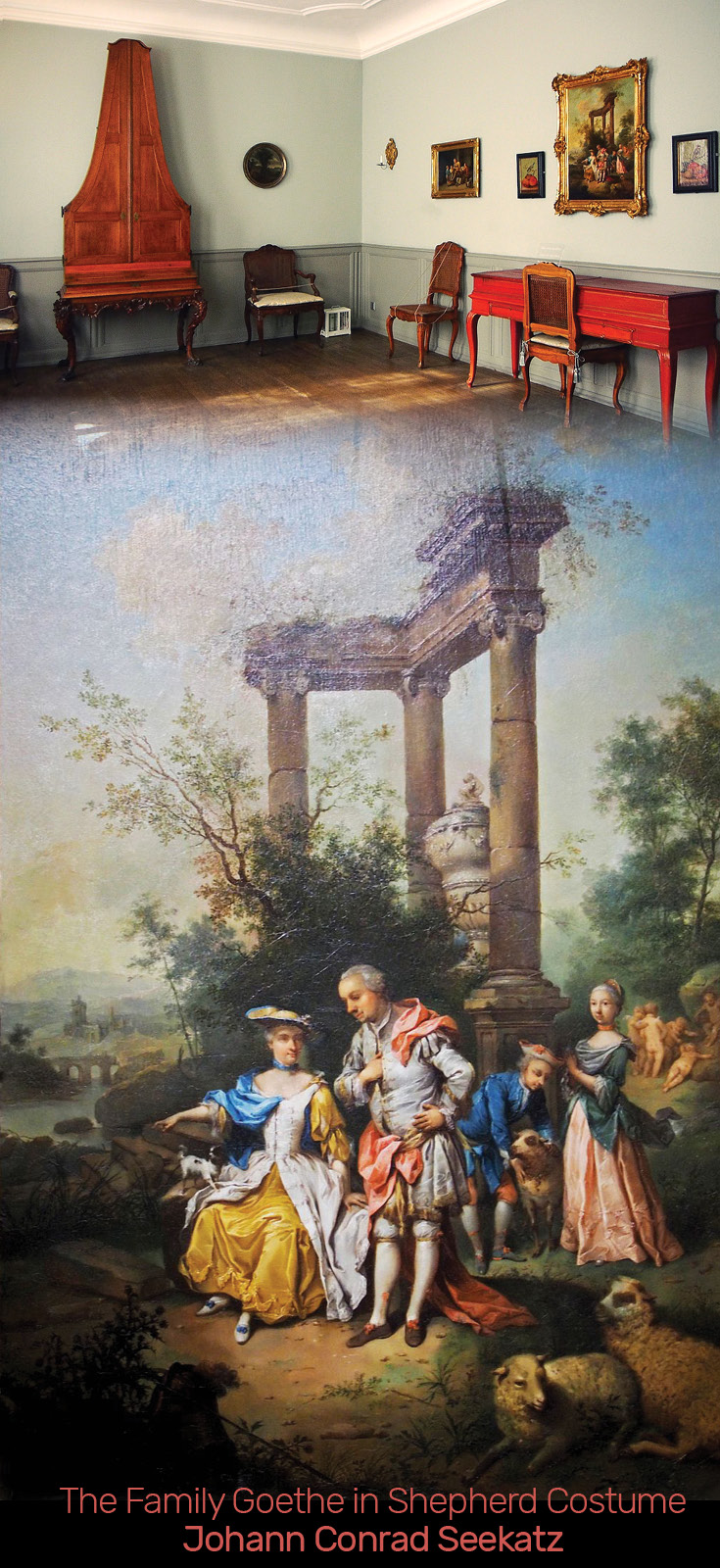 Second Floor Highlights
1. Goethe's Father's Library | These books are scandalized by the idea of ebooks, and suspicious as to why they're behind glass, lonely, and locked up!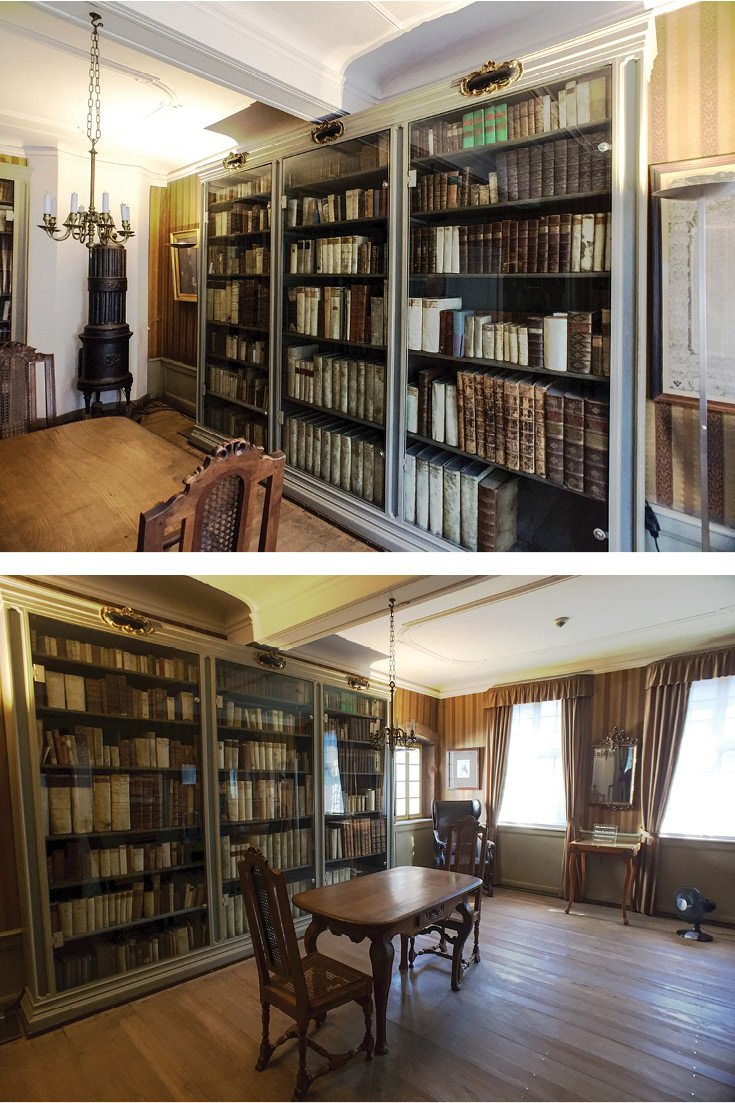 2. Cabinet of Paintings | Goethe loved art and especially the Dutch traditional style. He kept his art collecting local, and supported Frankfurt masters, Trautmann, Schütz the Elder, Juncker, Hirt, Nothnagel, and Morgenstern, as well as Darmstadt court painter, Seekatz.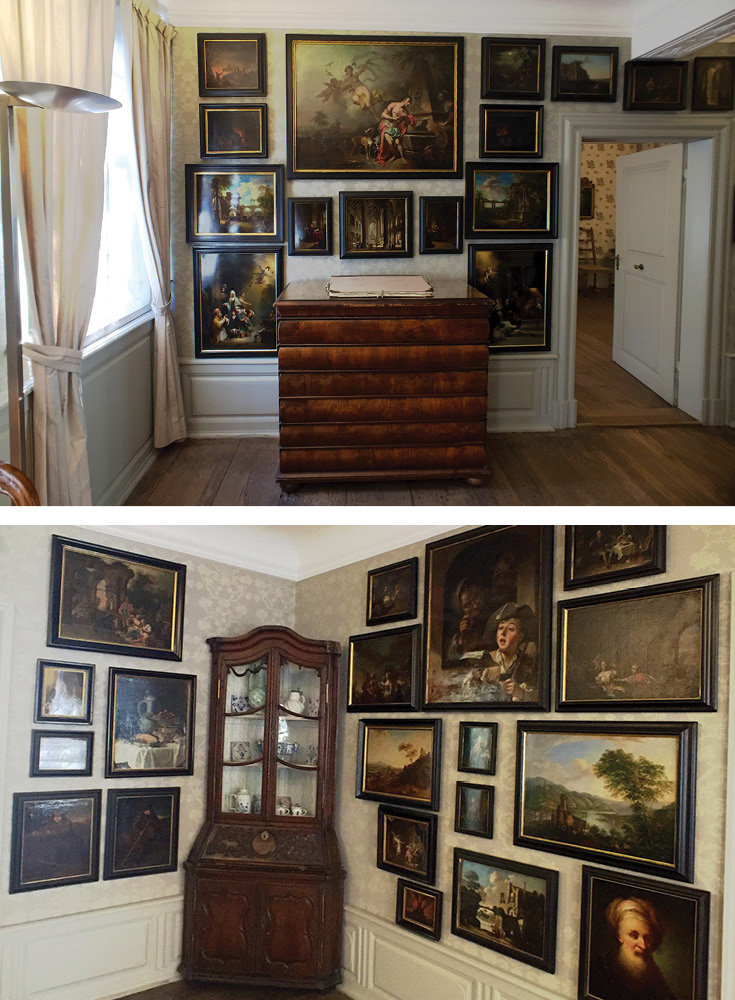 3. Astronomical Clock | Not original to the house, it was in Privy Council Wilhelm Friedrich Hüsgen's home, where Goethe admired it when he was young. There is a dancing bear in the lower peephole that acts as a signal for winding up the clock. It was built in 1746.
Third Floor Highlights
1. Poet's Room | Here, with it's original standing desk and a writing desk, is where Goethe wrote his early works.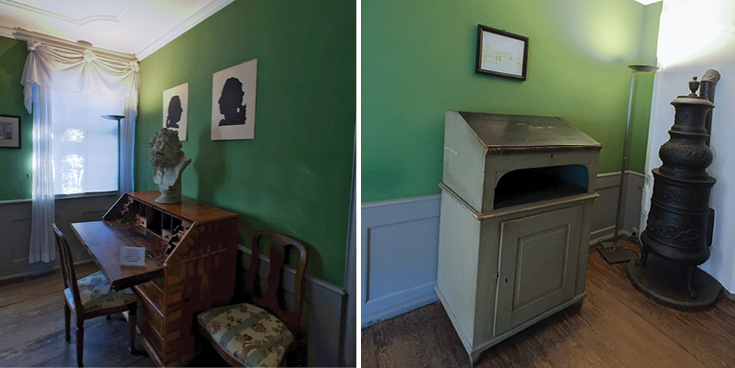 2. Puppet Theater | Goethe's puppet theater he received when he was 4 years old, yes really! It's survived. Worth climbing all those stairs? You bet.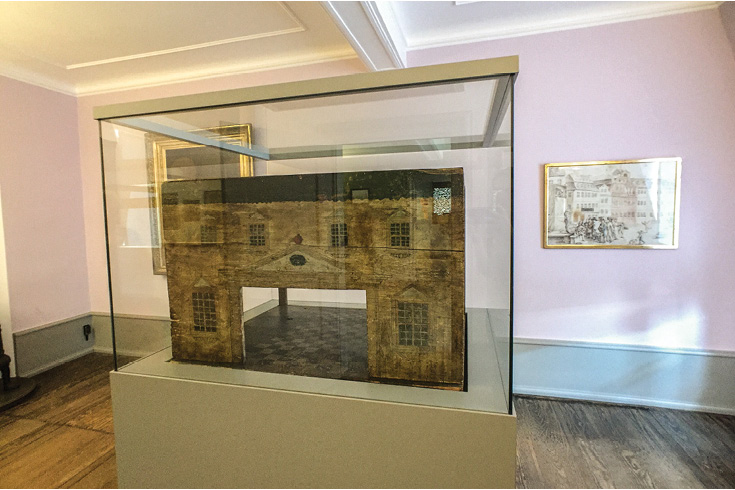 3. Western Attic Room | When the French Lieutenant Thoranc who occupied the house from 1759 until 1761 during the French occupation of the Seven Years' War, he had many Frankfurt artists to visit and work in this room. Goethe watched Johann Georg Trautmann create his Joseph painting series in this room. They've since been returned from Thoranc's estate to be displayed where they were created!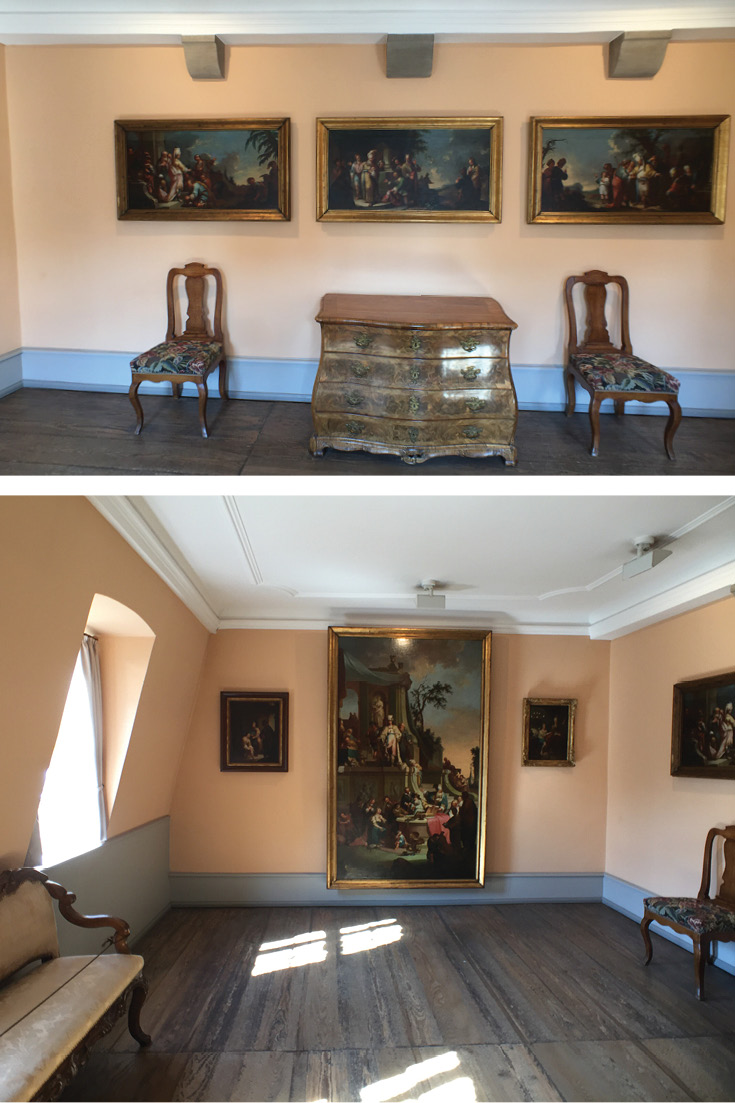 But wait! There's more! Here's what to expect at the adjoining Goethe Museum.
Follow Along
If you enjoyed this article, or these topics sound interesting to you, you'll love our weekly newsletter. You'll receive a free Germany Packing list for signing up, and you'll receive each week's newest posts every Friday. Thank you for reading!