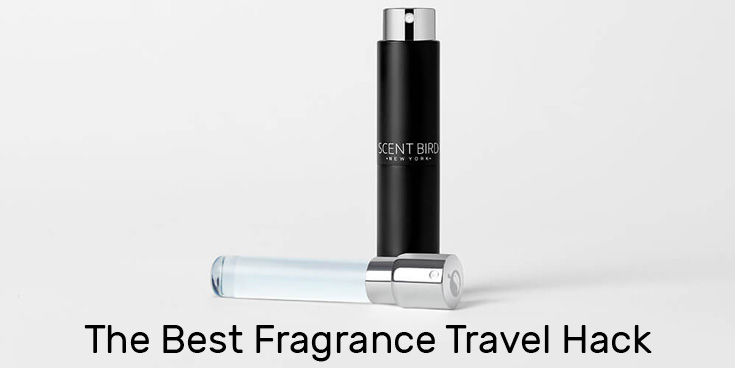 After years of packing regular size fragrance bottles or leak-prone atomizer sprayers in my checked-luggage, I finally found a better solution. One of my biggest travel nightmares is to have my fragrance leak all over my suitcase or have the bottle confiscated by the TSA due to a new liquids ban. I heard about Scentbird when I was searching for a better alternative to atomizer sprayers and signed up for a subscription last summer. This is the best fragrance travel hack I've found.
How to Conveniently Pack Fragrances
This subscription service sends you a fragrance vial with a 30-day supply for $14.95 per month. For your first order you will also get one of their twist-top tin cases. This case keeps the glass vial from breaking and protects the sprayer. This is the solution I was looking for when packing fragrances. You can switch out the glass vials by pulling it out of the case and inserting a new one. The vial has enough fragrance for 30 days, based on 4 sprays per day from the 0.27 oz / 8 ml bottle.
Smelly, Happy Vacation Memories
My first vial was filled with L'Homme by Yves Saint Laurent and I took it with me on vacation to Lake Constance in Germany. Scent has the magical ability to transport us back to a specific time and place with one sniff, and whenever I smell L'Homme, it reminds me of the great time I had visiting Lake Constance. Our sense of smell is very complex. Odors are processed differently than, for example, our sense of touch or our sense of sight. Whatever we smell gets processed by our olfactory cortex, bypassing the brain where ALL other senses get routed through first. That's why smells attach to memories without us consciously registering or processing them. This is exactly what L'Homme by Yves Saint Laurent did for me.
Save Your Empty Subscription Vials
In my case of falling in love with the scent of L'Homme, I used up all the cologne in the vial within about 6 weeks. I missed having the scent in my collection and bought a regular bottle of it a couple of months later. Thankfully, I had kept the empty vial, because you can unscrew the sprayer and refill it with fragrance from a larger bottle. That way you have another month of your favorite fragrance in a perfectly sized container and do not have to worry about taking your large bottles with you during your travels.
Getting Started With Scentbird
The very first thing that Scentbird had me do upon subscribing, was to complete an interactive quiz to find a fragrance for me. There were questions about my idea of a "perfect vacation", or the choice of a preferred drink. Based on your answers, Scentbird gives you perfume recommendations. Finally, select the fragrances that sounds best to you (from over 450 scents total) and place them in a monthly queue, from which you will receive one fragrance to try per month. Besides the small form factor, which makes it perfect for traveling, I also love the fact that I can try a scent before committing to a larger, expensive bottle.
I found and paid for my subscription for months now, and I'm really happy with the service. I've since become an affiliate of Scentbird because I believe they offer value to International Travelers. If you make a purchase after clicking on my links, I will receive a commission at no additional cost to you. Their current promotion is a 25% off coupon with code NEW2017. Just click here and enter the code at checkout.
Follow Along
If you enjoyed this article, or these topics sound interesting to you, you'll love our weekly newsletter. You'll receive a free Germany Packing list for signing up, and you'll receive each week's newest posts every Friday. Thank you for reading!