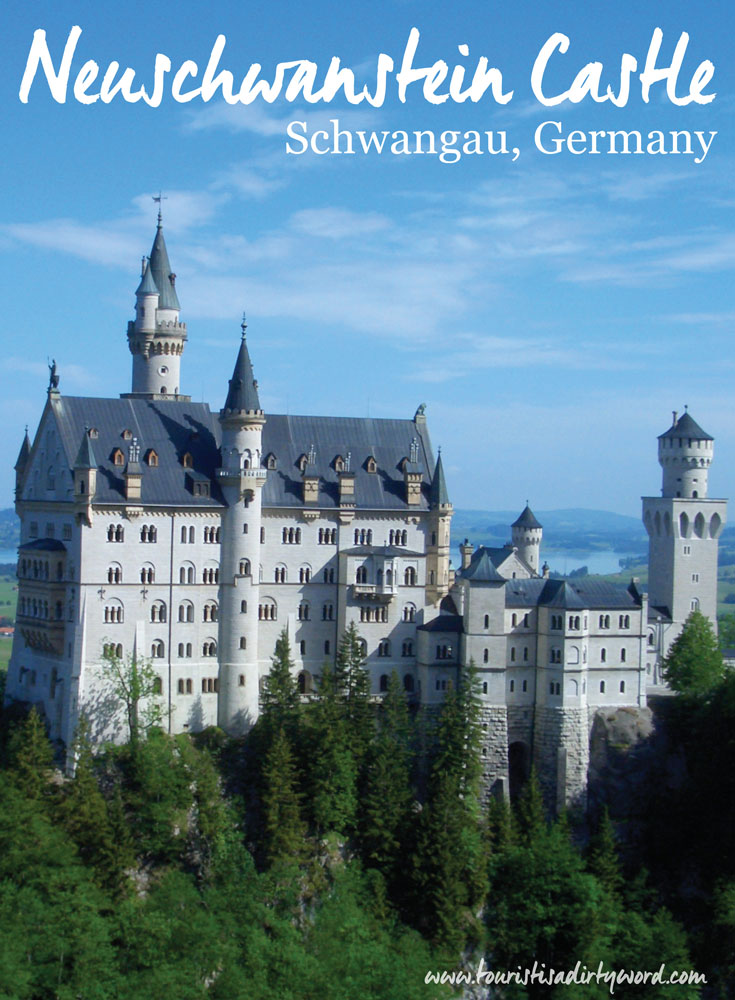 "If you get up early, you will have more of the day," he'd tell me. My grandpa, lovingly called Opa, was always on my case when I slept in until noon during my teenage years. I gave him, at best, a weary smile.
When we planned a family visit to Neuschwanstein Castle, Opa exhorted us to leave early, right after sunrise. My navigation app forecasted about 4 hours of driving, which Opa would cut to a little over 3 hours. He has a heavy right foot. I did not know it yet, but this time I was relieved that I listened and got up as early as I did.
Construction and Tragedy
Neuschwanstein Castle (Schloss Neuschwanstein) in southern Bavaria is without a doubt the most visited German castle with more than one million visitors every year. The castle was built for King Ludwig II on a rugged hill within a short walking distance from nearby Hohenschwangau castle, the summer residence of the royal family. Construction started on September 5, 1869 and was mostly finished 17 years later in 1886. King Ludwig II moved into his castle for the first time in 1884, where he only spent eleven nights from May 27 until June 08 before drowning on June 13. To this day it is unclear if his death was suicide, an accident, or murder.
Inspiring Walt Disney
One of the biggest ironies of Neuschwanstein is that the castle was built to be a private refuge on a high hill, but now hosts up to 6,000 tourists per day. The unique and breathtaking location paired with the sheer size of the castle, makes for a fantastic, magical sight. Even Walt Disney could not resist and used Neuschwanstein as inspiration for his Cinderella castle at his theme parks.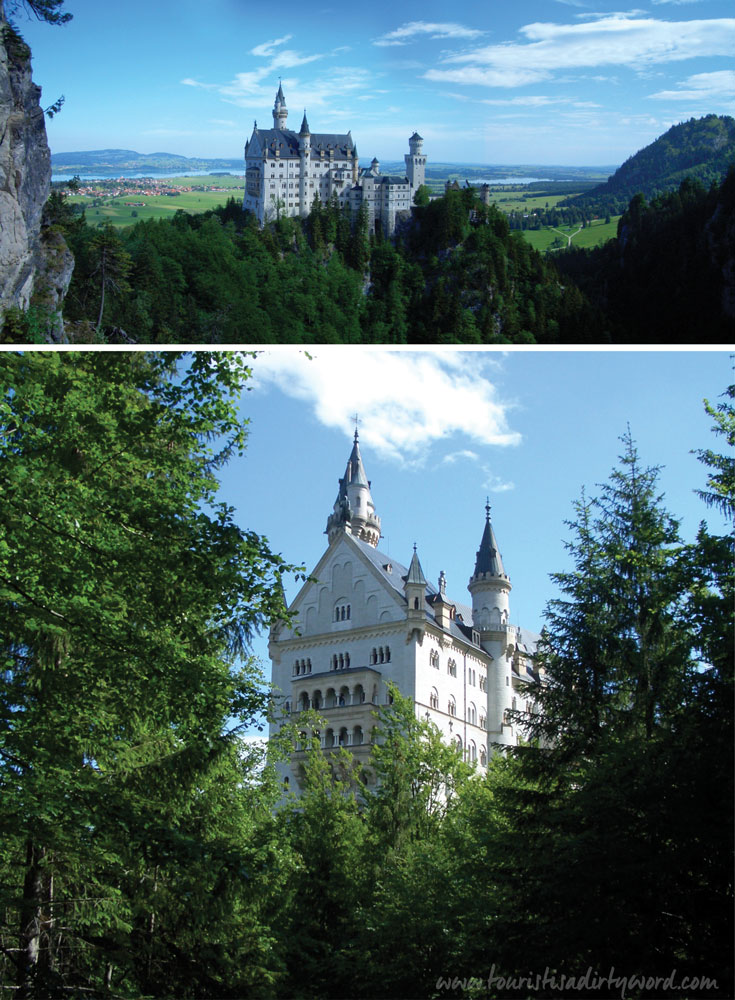 Getting the Postcard Photo
I still remember the cool and partly foggy morning when we arrived at the foot of the castle and my Opa walked up to the will-call counter and returned only a couple of minutes later smiling with tickets for all of us in his hand. I think he enjoyed the fact that he had been to the castle before and could be our tour guide.
And a great tour guide he was, leading us up the hill onto the Marienbrücke (Queen Mary's Bridge). This bridge is THE viewing platform with a great view of Neuschwanstein and I highly recommend not to miss the view from there. Here is a picture of us on the Marienbrücke, but a picture does not do the view justice. Underneath your feet you will hear a waterfall crashing down the rock walls into a gorge, making it quite "an experience" for someone who is afraid of heights, like me.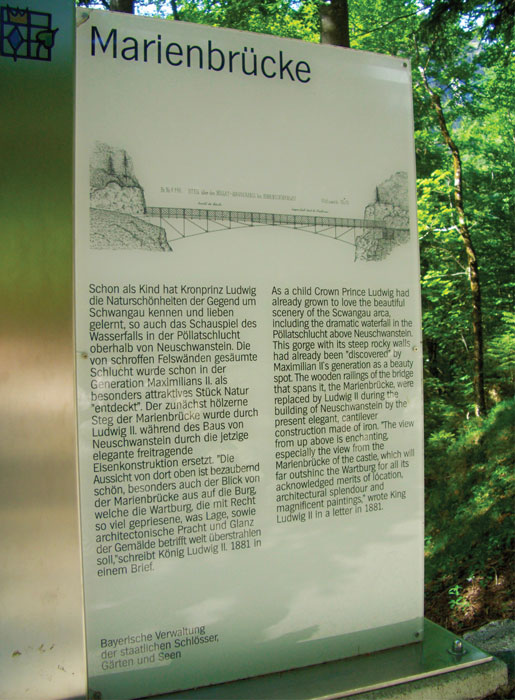 The Marienbrücke is currently closed until Summer 2016. If you still want a great picture and don't mind a little adventure hiking into unmarked territory, check out this blog post from Justin Goes Places.
After we enjoyed the view and exhausted all of our photo ideas from the Marienbrücke, we wandered up to Neuschwanstein Castle and waited about 10 minutes in a courtyard crowded with others waiting for their entrance time to show up on a digital screen.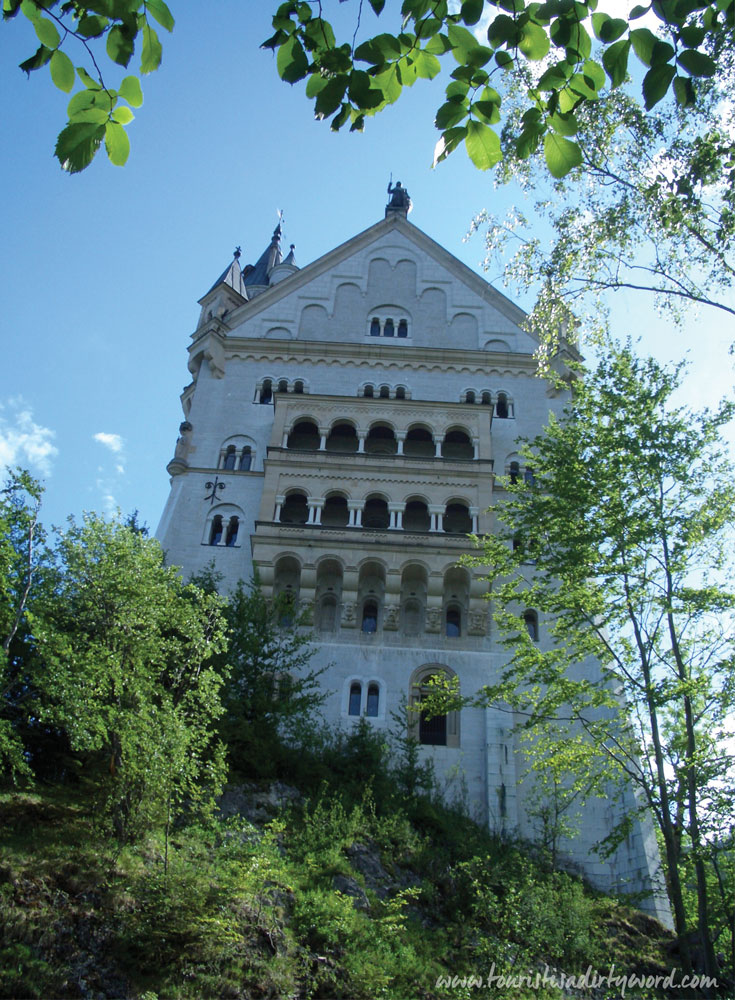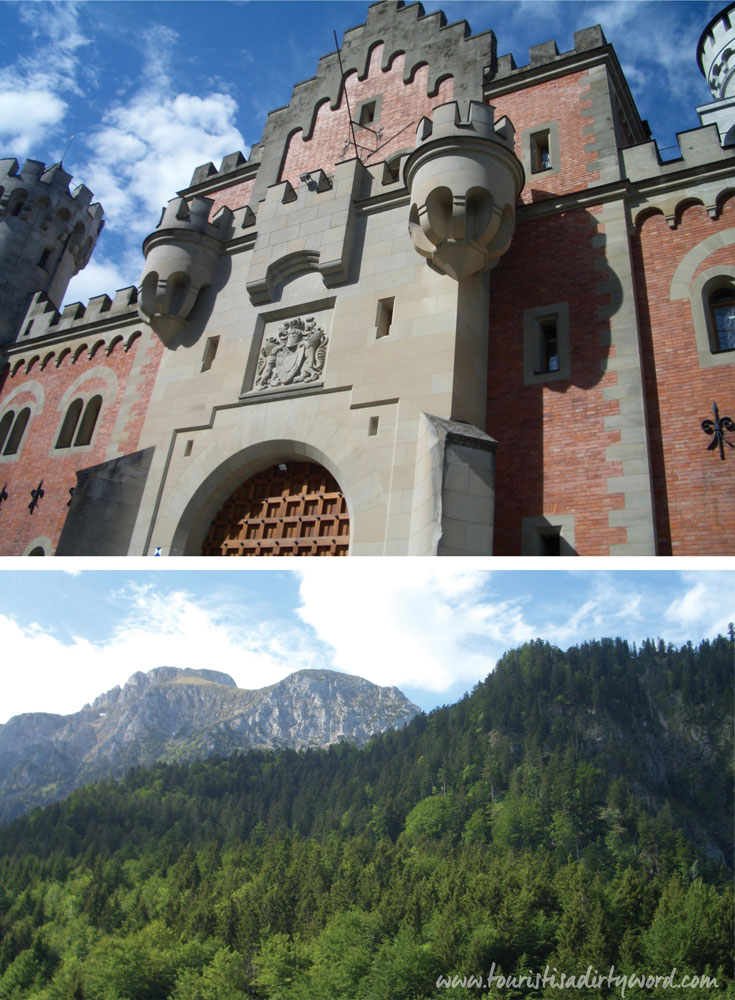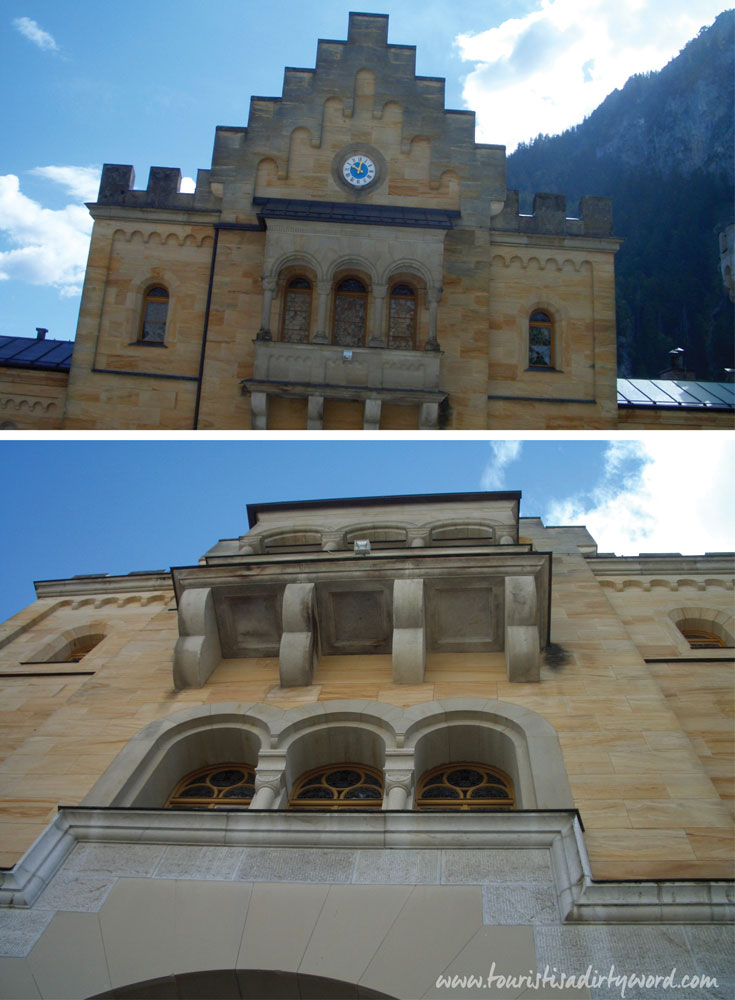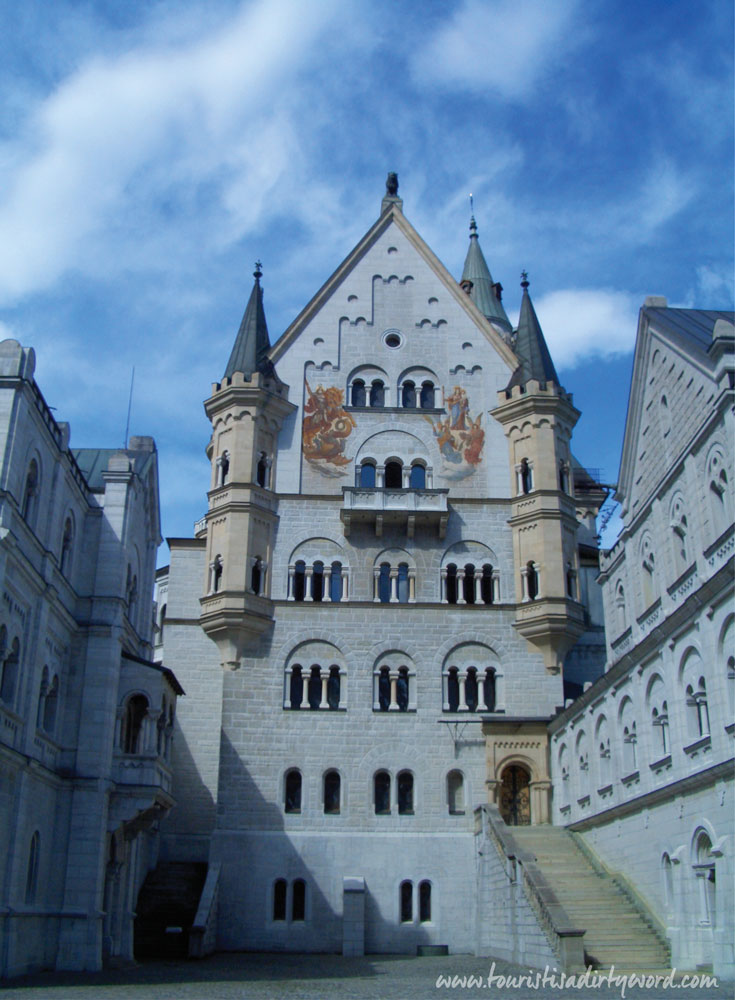 Our Guided Tour of Neuschwanstein
We met the guide who took us through the 14 finished rooms. The original plans for Neuschwanstein had more than 200 rooms planned, but Ludwig died before finishing them. The half hour tour went fast. The timing was down to the minute, and by the time we entered the next room, the group ahead was just leaving.
Early Bird Gets the Worm, or Opa is Usually Right
After the tour we walked down the hill again and as we got closer to the Welcome Center ticket counters, where Opa had no problem getting tickets earlier, we were amazed to see hundreds of people standing and waiting. More than a dozen buses had pulled up, unloading more people and at that moment I was very thankful that Opa made sure we arrived early and avoid as many crowds as we could.
So, is Neuschwanstein very touristy?
Yes, definitely. Easily the most touristy-experience I've ever had in Germany.
Should you skip it?
Definitely not, but go early and be prepared for crowds already in the late morning.
Neuschwanstein Castle Travel Tips
Here are 8 more tips and resources to help you plan your ideal visit to Neuschwanstein Castle:
1.You must buy your tickets in advance! Pick a date and time to visit and reserve tickets in advance here. That way you can skip the ticket purchase line and go directly to the will call counter, both located at the foot of the hill. Don't go up to the castle expecting to buy a ticket there – you can't. Tickets can be bought up until two days before. Tours run every 5 minutes and when you reserve your tickets online, you also reserve your tour language and tour time. Tours take about 30-35 minutes.
2. Check the weather and dress accordingly. You will be outside walking up and down a hill in order to get to the castle, so be prepared for lots of steps and some steeper trails. The walk takes about 20-40 minutes each way depending on your stride. Besides walking you can also take a horse drawn carriage or a bus. Both will be packed with people, so do not expect a romantic carriage ride up the hill with your loved one. You can not reserve the bus or carriage in advance. Also, neither the bus nor the carriage will take you all the way up to the entrance due to the tight space up there. Your walking time will be cut from 20-40 minutes to 10-15 by taking a bus or carriage.
3. If you arrive early, make sure to go onto the Marienbrücke before you go to the castle. Enjoy the grand view from there and catch your breath before going uphill again. The bridge will only get more and more crowded as the day goes on.
4. Bring small change for parking, restroom use, and or bus/carriage transportation up to the castle.
5. Backpacks, child carriers, and any bulky objects are not allowed to be taken onto the tour, and there are no lockers available at the castle. Leave them in the car or at your hotel.
6. No photography is allowed inside the Neuschwanstein castle. If you're not passionate about photography, travel light: a decent mobile phone camera will suffice since you can only take outdoor photos anyway. You can see some of the rooms and a view from the Marienbrücke in this video from Rick Steves:
7. Here is an overview map of the Neuschwanstein Castle walking time estimates and bus/carriage pickup spots. Print this before you go and you'll be a step ahead of the crowd.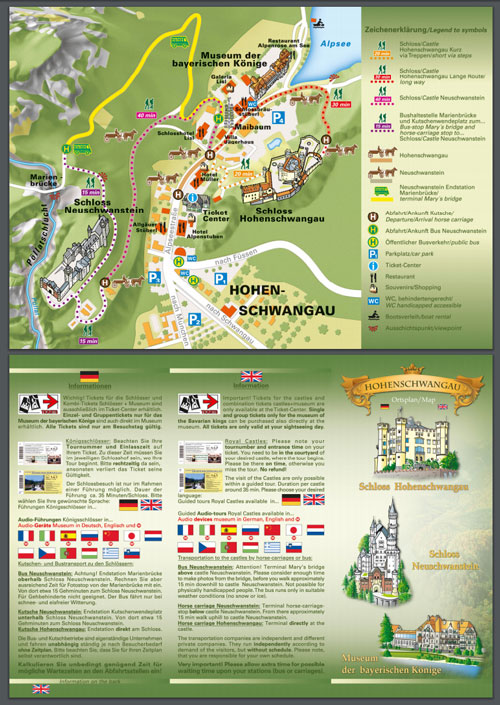 8. Listen to this episode from Denise's favorite podcast, Stuff You Missed in History Class which includes an explanation of Ludwig's trap door dining table.
Follow Along

If you enjoyed this article, or these topics sound interesting to you, you'll love our weekly newsletter. You'll receive a free Germany Packing list for signing up, and you'll receive each week's newest posts every Friday. Thank you for reading!