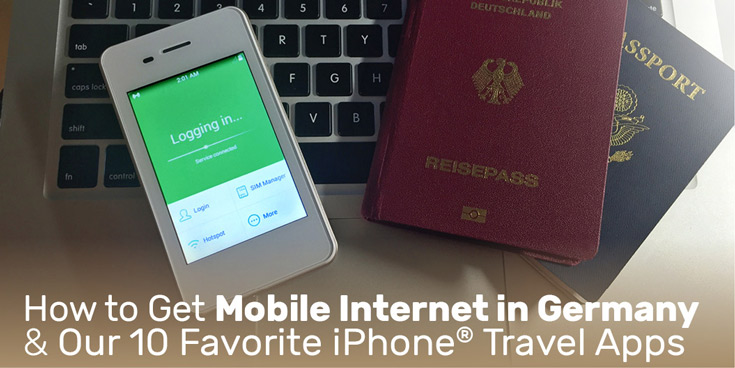 Technology has come very far in the past years and most of us carry a small computer in their purse or pants, that is not limited to calls anymore. We have already covered the essentials to take with you on our free packing list and today we will expand the list with our favorite apps.
However, many apps are simply useless if they are not fed with data over a Wifi or 3G/4G connection. It does not help if you want to pull up the departure time of your train just to find out you have to be online to get that information while in a foreign country. To get mobile internet on your smartphone in Germany, you have four choices:
1. Use a Roaming Plan With Your Current Cell Phone Carrier
This will be your most convenient, but also most expensive option (unless your provider is T-Mobile, see below). Check your carrier's website for details on international data roaming charges. Our provider offers a $40 plan with unlimited text messaging, but only 200MB of data. If you use FaceTime or another video messaging app, you will get about an hour until you run out of data. Web surfing on your smartphone will give you about 3 hours total until you reach 200MB. Let's look at some other options.
2. Switch to a T-Mobile Plan
T-Mobile offers unlimited international roaming in over 140 countries including Germany. If your cell phone contract is up and you are looking for a different provider, check out T-Mobile (which is a company of the German telecommunications company Deutsche Telekom). Once you land in Germany, take your phone off the airplane mode and it will automatically lock itself into the German T-Mobile network for no additional fees. Internet speeds will the slower than in the United States, but you will still have a 2G or 3G access to the mobile network. http://www.t-mobile.com/
3. Buy a German Prepaid Sim Card with a Data Internet Plan
This works only if your phone is unlocked from your cell phone carrier. If you are unsure, give them a call and ask. Once you land in Germany, walk into a discount grocery store, like Aldi or Lidl and buy a sim card for $10-$15 to put into your smartphone. Word of advice though: You will have to set the card up yourself with the setup process in German. For a good overview on available sim cards and providers, look at this website: http://www.mygermanphone.de/
4. Purchase a Wireless Hotspot device to create your own network
Our favorite way to go online in Germany is a hotspot device called GlocalMe G2 (affiliate link). It looks like one of the first iPhones, but is about twice as thick and heavy since it includes a large 6,000mAh battery. Upon purchase it comes with 1GB of data included and you can buy more at €0.05 per Megabyte or €20 - 30 per Gigabyte, based on which package you choose. Simply turn it on, wait for about two minutes for the bootup and login to complete and then connect up to 5 wireless devices to it. This is the best solution for us, allowing both of our phones, a laptop and two family members to be online at the same time and with the extra large battery we also use it to charge our phones if we run low.
Now that we figured out how you can be online during your trip to Germany..
Our 10 Favorite Travel Apps for the iPhone®
Get Help with Translating
Google Translate is our go-to app when it comes to translations and gets better every year. You can download the free offline package for German and then translate any text, even without an internet connection. Another great feature is to hold your phone in front of a sign that you need translated and it will show you a translation of the sign within seconds. If you have an internet connection while using Google Translate, you can also use the speech version, where you can speak your native language into the phone and within seconds the phone will translate what you just said. It works well enough for simple conversations, helping overcome the language barrier.

Youth Hotspots
This app makes it easy to find free wireless internet access around you while in Germany. It uses the GPS in your iPhone to locate you and then shows you a map or list of places with free Wifi. This app was developed by the German National Tourism Office and claims to have over 1,300 free networks listed all over Germany. We did not try all of them, but it has come in handy several times during our travels.

Travel via Train
If you are traveling Germany by train, download the DB Navigator App from Deutsche Bahn. It will give you train timetables for regular, underground and S-Bahn trains plus buses and trams. You can also purchase and store your tickets within the app, no need for a printed copy anymore. Some ticket purchases require you to show your ID and the credit card you purchased the ticket with, so keep those handy while you are on the train.

Navigate a City Offline
City Maps 2Go gives you free offline maps that you can download before you travel and find your way around even without internet access. Zoom into the area you would like to save and click the prompt on top of the screen to download the map. You do need an Internet connection to download maps initially, but once downloaded, the maps are accessible anywhere. After you land in Germany, open the app and click on your saved map. Your GPS in your phone will guide you from now on.

Find Great Restaurants Around You
Yelp is my favorite app to find a restaurant based on your location. This is extremely helpful if you come back to your hotel after a day of sightseeing and want to find a great (or at least decent) restaurant with good food nearby. I open Yelp, click on Nearby at the bottom and look at close-by recommendations. I have found many great restaurants over the years that we would have missed if we just would have walked by them.

Be "Old-Fashioned" and Send a Postcard
We are always on the lookout for nice postcards when we are travelling in order to share our favorite sights with our family members back home. Often we find very generic or cheesy postcards, other times we find a great postcard but have trouble finding stamps and a local post office. That is where Postagram comes in, letting you choose one of your favorite travel pictures and complete it with a personalized message next to it. The picture can also pop out of the actual card as a keepsake for the recipient.

Stay in Touch With Your Friends and Family
Faster than a postcard are messages we send via WhatsApp. You can send pictures, share your current location or simply chat with people you want to stay in contact with while you travel. The newest version also has the ability to video-chat or voice call others for free, given that they also have WhatsApp installed and both ends have a working internet connection.

Convert Your Currency
Download the XE Currency app and it will convert any foreign currency into your own currency based on the current exchange rate. The rates are updated when you have an internet connection, but the app can also be used offline, when it will use the last known currency rate that it downloaded.

Organize Your Itinerary
TripIt automatically organizes and lists all your trip details in one place. Simply forward every trip-related reservation email (flights, accommodation, car rentals, etc.) to plans@tripit.com and it automatically converts all the details from the email to your itinerary.

Worst-Case Scenario
In Case of Emergency lets you enter all of your health information and even has the option to display all that information in your lock screen. You can add your medications, allergies and travel insurance information (we recommend this one) and show it to doctors or emergency personnel if needed.

I am sure there are some travel apps we have forgotten! Which ones do you recommend?
Follow Along
If you enjoyed this article, or these topics sound interesting to you, you'll love our weekly newsletter. You'll receive a free Germany Packing list for signing up, and you'll receive each week's newest posts every Friday. Thank you for reading!