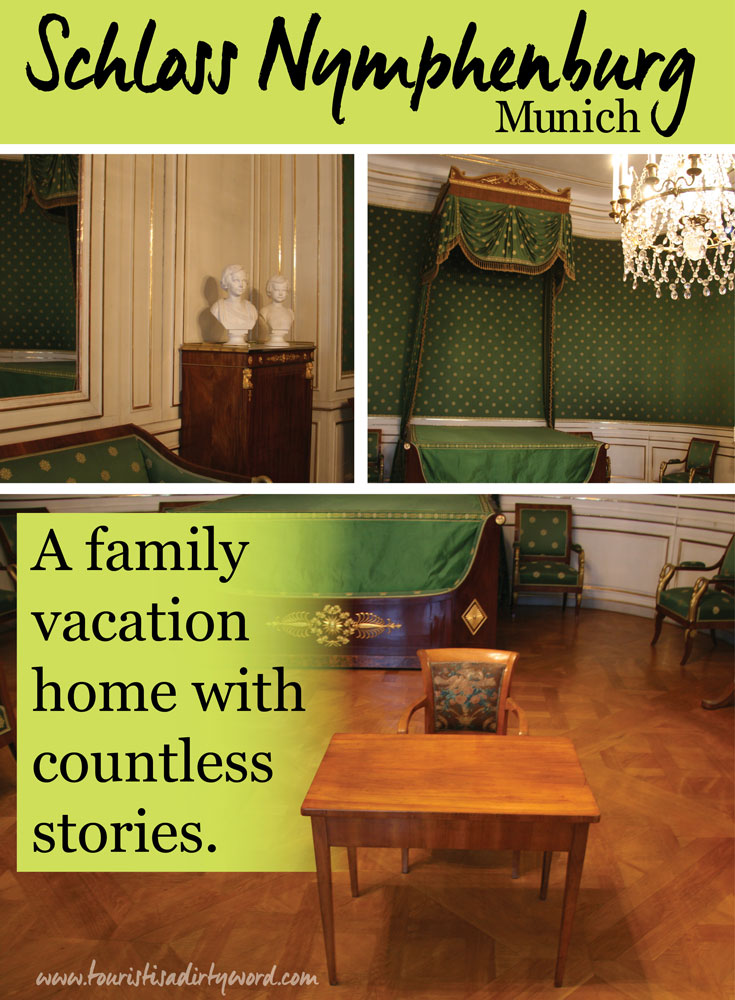 Seeing the tiny, child-size chair and kid's table in the Queen's room made the palace feel like a home rather than an ongoing museum. That chair and table was once King Ludwig II's when he was a child. Generation after generation, ultimately this palace, Schloss Nymphenburg, is a family vacation home with many stories to tell.
It was a Sunday morning during Oktoberfest, and we chose to visit Schloss Nymphenburg out of a dizzying array of choices because it felt like it had a little bit of everything; art, history, architecture, and gardens. We had the entire morning to visit the palace and gardens, but to see everything including the pavilion interiors and not be rushed, allow for a full day.
The Great Hall
We entered the Palace through the Great Hall, and the sight of the vaulted ceiling and accompanying gold-gilded stucco work simply took my breath away. When I see such historic, beautiful architecture still existing in person, my eyes tend to water with joy. Yep. I'm that girl, getting all misty-eyed looking at art.
The ceiling was huge, technically two stories since on one side there was a staircase that went up a level to also overlook the hall. I looked at Sebastian, and he knew what was about to happen. I needed to stare at this ceiling, agog in wonder, for a healthy 10 minutes, and take fifty photos or so of various angles before moving on. The stunning ceiling fresco was the work of Johann Baptist Zimmermann, his son Franz Michael, and Martin Heigl between 1755-1757 under Max III Joseph's rule. The Great Hall has remarkably remained unchanged and preserved as an authentic Rococo room since 1758.

Ten Minutes Later...
We start our way through the wings of the castle, and its immediately 'choose your own adventure' as rooms broke off into other rooms and we weren't sure if we'd end up missing something by accident or going around in circles.
One thing that stood out to me was how often paintings of the palace itself showed up in frames on the wall. It was as if the palace was a family pet that had numerous photos of its antics over the years. The truth is, they needed to constantly paint the palace in order to remember what it looked like. Every generation left their mark on the palace and its design. Many of the furnishings were original or of the time of the palace, often filled with portraits of previous homeowners looking back at you while you're looking at their belongings and collections.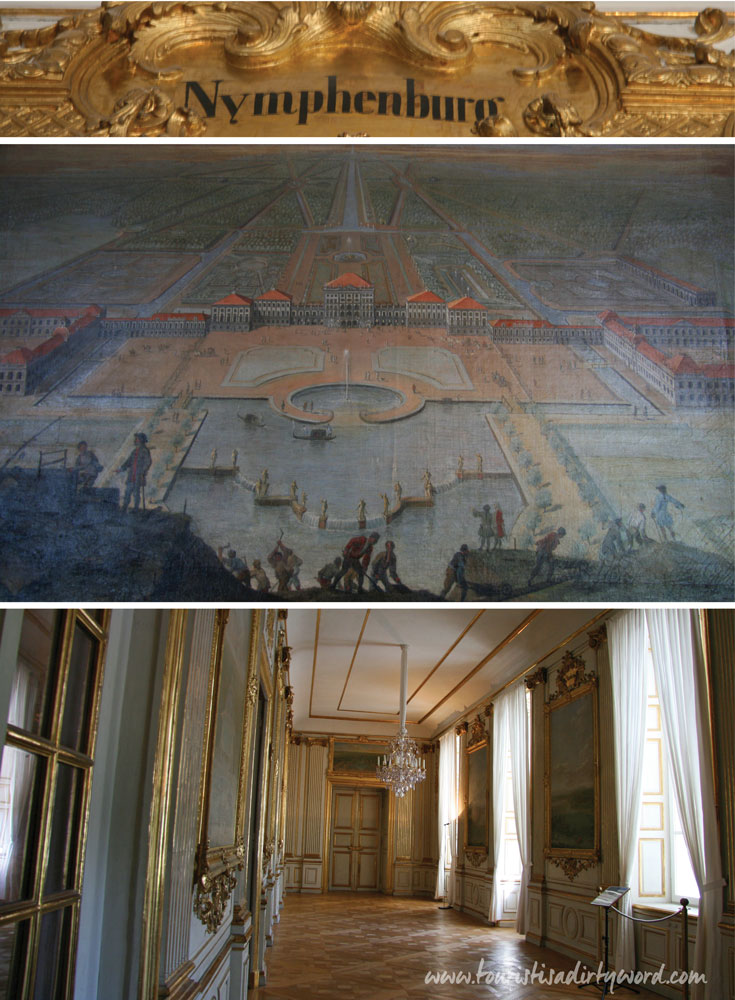 King Ludwig I Gallery of Beauties
When I asked Sebastian what stood out in his memory of the palace, he immediately said the Gallery of Beauties. In the dining room of the Queen's apartment, the Gallery of Beauties is displayed, a collection of 35 paintings by Joseph Stielier as a commission of King Ludwig I. They were all beautiful ladies, but from all different walks of life, and not necessarily German. The ladies' wit, personality, and virtue must also be ideal to be included.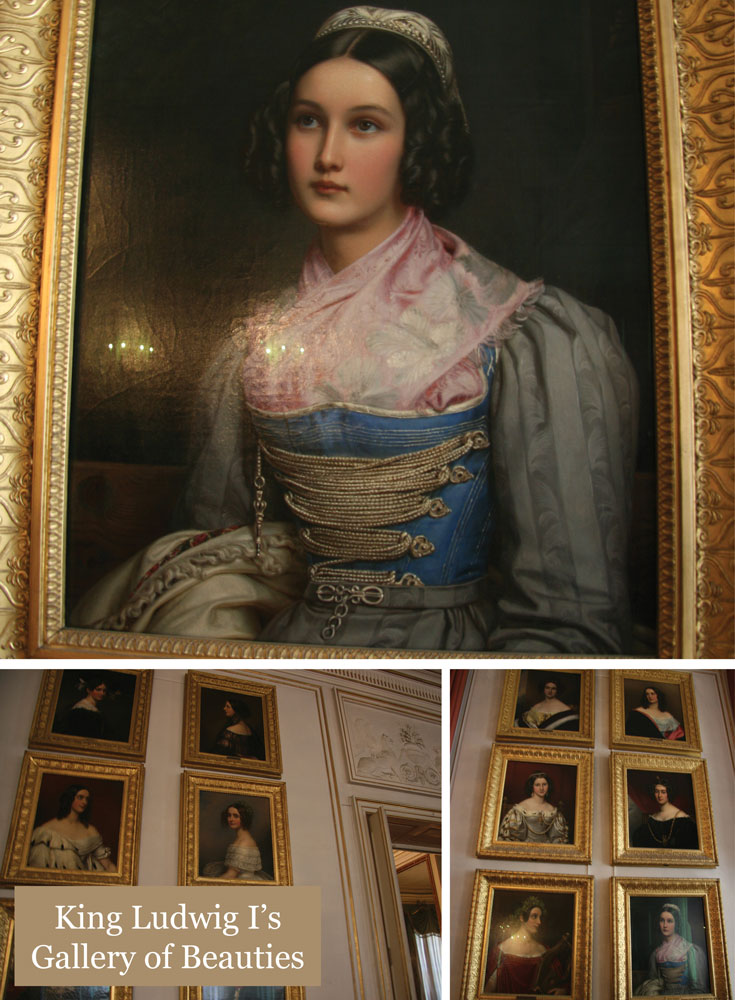 King Ludwig was wholly involved in the project, and out of fourteen ladies nominated by the artist, the King would choose one. His step-mother nominated Elise List, and his wife Therese nominated and convinced Miss Erskine to be a part of the collection. The king would be present during the portrait sittings with Stielier and even direct the outfits. He hand selected and purchased the traditional Bavarian costume for the master shoemaker's daughter Helene Sedelmayer. Ultimately his friendship with one of his 'beauties' would result in his abdication from the throne. If this is interesting for you, I have the perfect book recommendation: King Ludwig I's Gallery of beauties (affiliate link)
It took us several hours to visit all of the accessible rooms in the palace. After concluding our palace visit, we took a leisurely stroll through the park.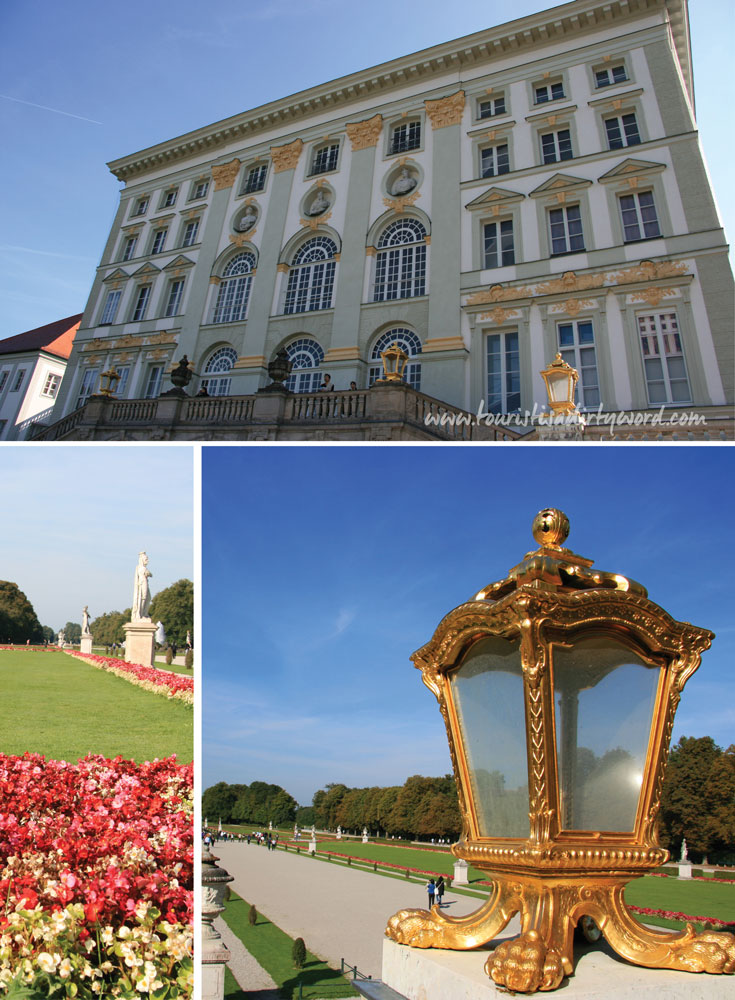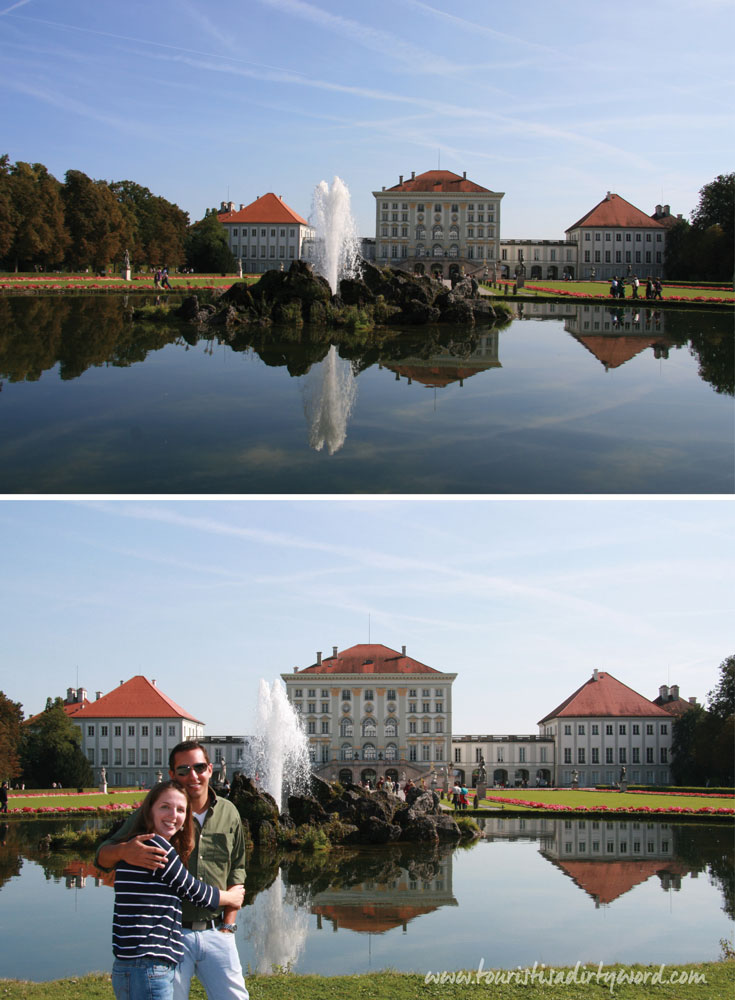 Park Pavilions
Schloss Nymphenburg was the 'I want to get away from it all' recluse for the ruler of Bavaria. It was a 2-hour carriage ride from the Munich residence. When you want to escape, reflect, or relax, you'll need gardens, baths, and sports to unwind with. Over time, the palace grounds provided all of that through numerous pavilions; Amalienburg hunting lodge, the Badenburg bath house, Magdalenenklause for spiritual solace, and Pagodenburg for resting between outdoor games. You'll need a combination ticket to get inside the pavilions, but to see the outside of them it's part of the public park. We knew we wouldn't have time to visit inside, but we still wanted to visit the grounds and get an idea how big the park was.
Well, it turns out it's pretty big, and we got lost! Ha! We were trying to hunt down the Monopteros by the lake, and our direct path in our minds turned out to be very roundabout way. We found the Little Village with 'Green Pump House' way before we found the picturesque Monopteros. Wear something you can walk comfortably on gravel paths. To explore all of the pavilions you'll have to walk! To rest up, we had a light lunch Café im Palmenhaus alongside the park before hitting the gift shop for art books on our way out.

Souvenir Recommendations
I chose and whole-heartedly recommend these two:
1. Nymphenburg Palace, Park and Pavilions - Bayerische Schlösserverwaltung. Small but swarthy overview of the building history and room by room descriptions of the objects in each room, including the paintings.
2.King Ludwig I's Gallery of beauties (affiliate link) by Gerhard Hojer which reproduced all 36, including the 1 lost portrait painting, with several essays as well as biographies of each of the ladies. I knew it would have all the details I needed and didn't have time to read in the exhibit. This book may be best served buying in advance of your trip and reading before you go. The biographies on the ladies' alone are fascinating.
Follow Along
If you enjoyed this article, or these topics sound interesting to you, you'll love our weekly newsletter. You'll receive a free Germany Packing list for signing up, and you'll receive each week's newest posts every Friday. Thank you for reading!