It was 3pm and I had not had lunch yet. Unfortunately, I am one of those people that get "hangry" when not fed on a regular basis, so I fired up the Yelp app on my phone. There were some mediocre dives and high-end restaurants near us, but I was not after a sit down meal. All I wanted was good comfort food at a reasonable price. That's when I spotted the entry for Globus Döner with a 4.5 out of 5 rating. I am a sucker for Döner, especially since it is hard to find one in the United States. My family also enjoys this Turkish specialty, which lead to my Mom, Dad, sister, Denise and I heading over towards a residential neighborhood of Leipzig.
If you're wondering what this magical thing called Döner is all about, check out our earlier post, A German Spin on a Turkish Tradition You Should Try.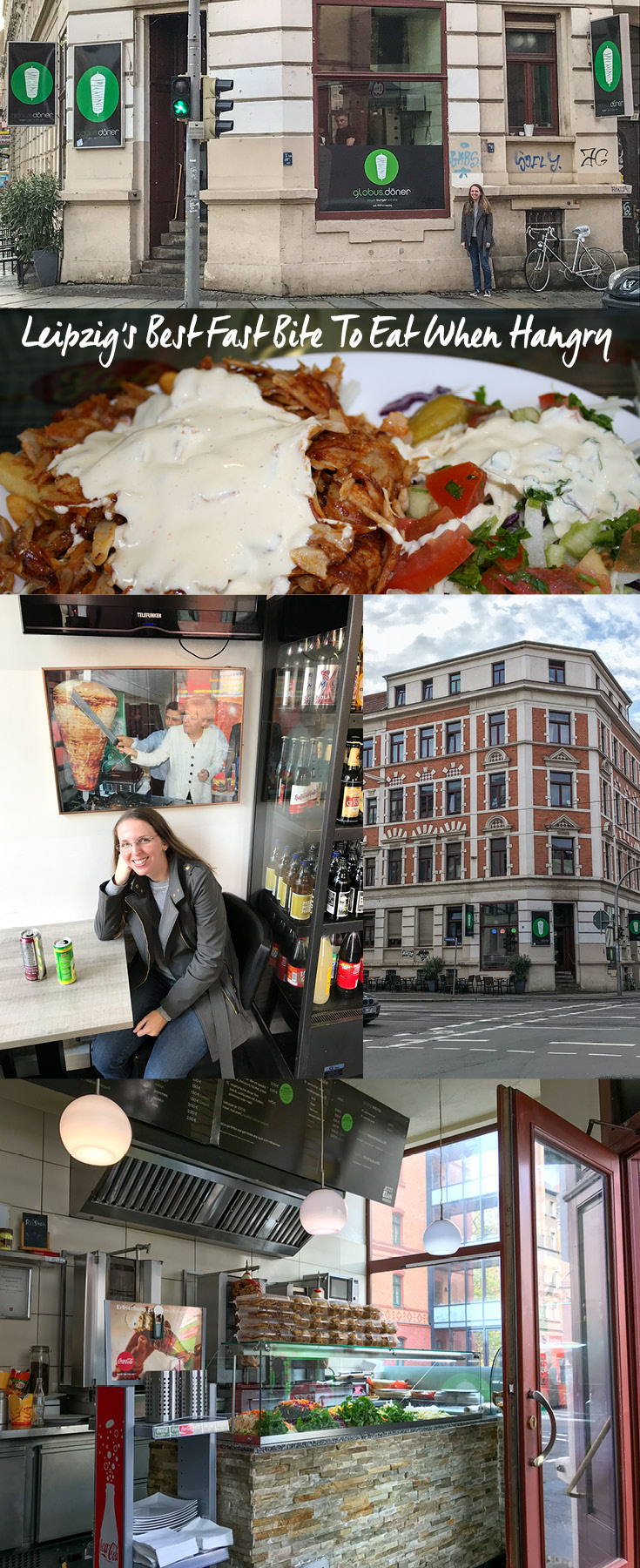 Globus Döner is located on a busy street corner and is small on the inside. There are three tables, maybe eight chairs total, the counter and a fridge or two. Two friendly men were behind the counter, smiling at us when we entered. All the ingredients looked fresh, and there was a steady stream of customers coming and going, all grabbing takeout orders. Not bad for a small place at 3pm on a weekday. We decided to commandeer all the tables as a group of five and then ordered five Döner Teller, or in English Döner plates. Instead of a being wrapped up in pita bread or wrap, all the ingredients are plated, which makes them much easier to eat if you're out in public and want to minimize getting your hands messy. You use a fork and eat it like a salad. After a short wait we had a large plate in front of us, with the traditional meat, cabbage, tomato, fries and a white sauce, reminiscent of a salad dressing. I have to tell you: this was the best Döner I have ever had in my life! Fresh, delicious and savory, all of us tried our best to wipe the plates clean.
The man who had prepared the Döner for us was actually the owner. His name is Kiyanosh, and he moved to Leipzig from his home country of Iran. In between helping customers, he sat down with us for a chat about his family, his home country and Leipzig in general. His Döner store was one of the first in former East Germany, after the wall fell in 1990. He told us proudly, that over the years he managed to open more than eight stores. We had a great conversation with him while enjoying our Döner Teller. It was definitely worth spending our late lunch break there, and we left feeling like we had a friend in Leipzig.
Drinks to Try With Your Döner
When you go for a Döner (at any store), make sure to try one of the Turkish sodas they sell. My favorite is Gazoz, which is a lemonade-like drink, made with whey, water, sugar, and fruit flavors. Its in a bright green and yellow can, you can see it in front of Denise in the picture above. The taste of Gazoz is most comparable to Sprite, but less sweet in my opinion. As a parting gift, Kiyanosh gave my mom a yogurt-based drink with water and salt called Ayran, and he told her, that this drink would keep her healthy.
Kiyanosh, if you read this, thank you again for your hospitality and great food. We will stop by again on our next visit to Leipzig!
Follow Along
If you enjoyed this article, or these topics sound interesting to you, you'll love our weekly newsletter. You'll receive the newest posts each week and exclusive access to free planning resources like 'Packing List & Tips for 2 Weeks in Germany' and 'Everything You Need to Rent a Car in Germany'.

Thank you for reading!