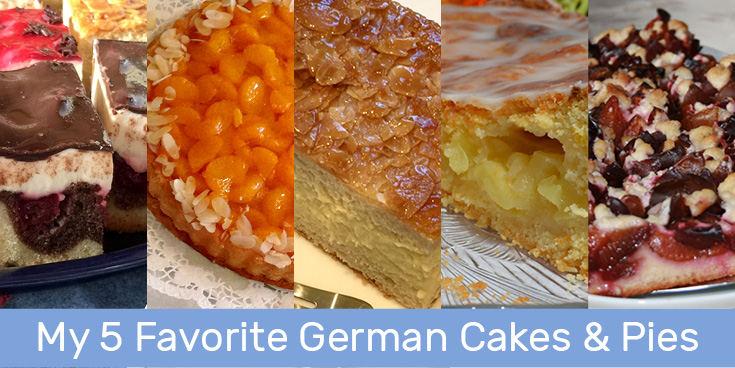 Our local grocery store in Florida sells "German Chocolate Cake" and when I moved to the United States years ago, a coworker told me to try it. You should have seen my face after the first bite. I expected rich layers of chocolate and what I got was a mouthful of chocolate cake with a pecan-coconut filling. Coconut in a German cake!? We do not have a tropical climate with coconuts growing on our trees. Obviously, this was the first and last time I ever bought this cake.
I want to introduce you to my favorite German cakes and pies. Since this is my personal list, the most-well known Black Forest Cake did not make the cut. It is a good cake, no doubt, but the 5 cakes and pies below beat the Black Forest Cake easily, at least in my opinion.
Donauwelle
The Donauwelle cake is named after the German river Danube, which originates near the Black Forest. Welle means wave and is very fitting, since the marbled cake does have wavy patterns. Embedded in the marbled cake are tart cherries, topped by buttercream and a chocolate frosting, that also has a wave structure to it. The tart cherries in the Donauwelle go great with the chocolate frosting and I love it when the cake is chilled and the buttercream is cold and refreshing.
Mandarinenkuchen
Another refreshing cake is the tangerine cake, made with a short pastry bottom, topped with a curd cheese mixture and garnished with tangerines. Besides the curd cheese mixture, I have also had this cake with a sour cream and also a cream cheese filling. No matter which way, this cake will melt in your mouth and the sweet tangerines go great with the tart cream filling.
Bienenstich
Literally translated this cake is called bee sting cake and it is filled with delicious vanilla cream, finished with an almond & honey layer on top. While absolutely yummy, it can be a bit intimidating to eat this cake on a first date, because the cream filling will ooze out of all sides, when you try to cut through the crispy top layer.
Gedeckter Apfelkuchen
This is an apple cake variation with a classic shortcrust top layer, translated to covered apple cake and, to me, most reminiscent to the classic American apple pie. The German version has a perfect balance of sweetness and acidity from the apples, certainly much less sweet than its American counterpart.
Pflaumenkuchen
The last one in this list and I saved the best for last. This plum cake is my absolute favorite and widely available July through October during plum season. The yeast dough hold the plums in place, all you have to do is top it with some fresh whipped cream and it is heaven on a plate.
Follow Along
If you enjoyed this article, or these topics sound interesting to you, you'll love our weekly newsletter. You'll receive a free Germany Packing list for signing up, and you'll receive each week's newest posts every Friday. Thank you for reading!