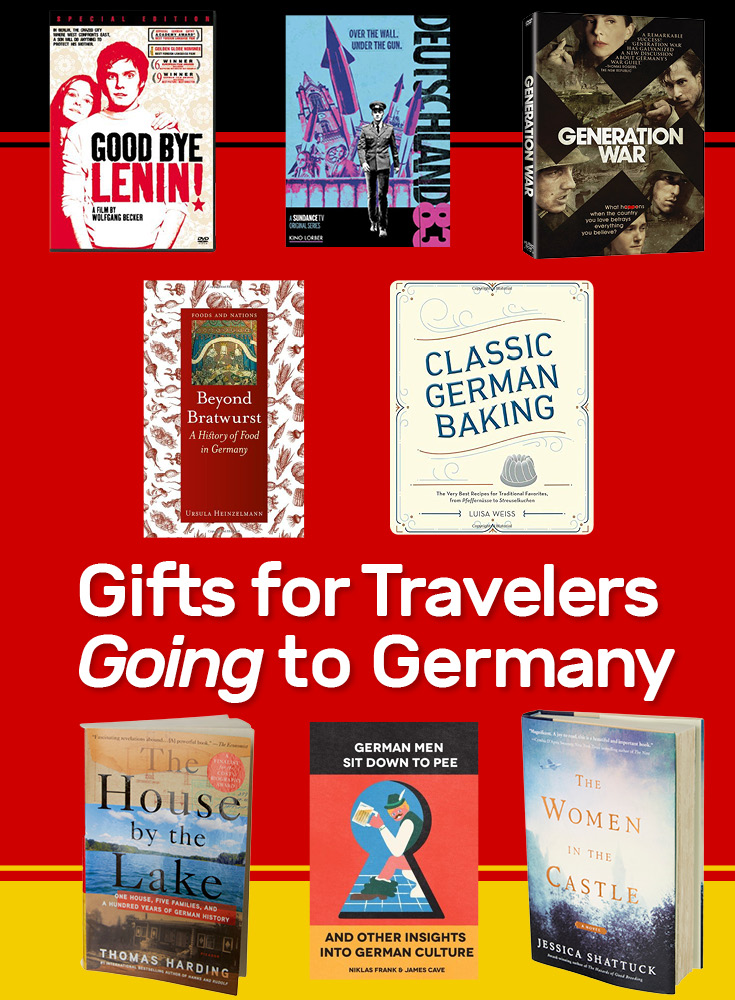 I'm going to mix it up this year for our holiday gift guide. There are way too many generic traveler gift guides out there, most with the same items on it. So this year we're focusing on only items that are involved with German culture, because at this point everyone has luggage tags, passport covers (if they want them), and a scratch off map. Travel guides? If you're planning on traveling or your friend is, travel guides are such a personal decision, it's better to leave them to the traveler themselves.
Going back to our roots, that 'Tourist' is a dirty word, the more you know about the culture, the more likely you won't feel like a tourist. Here are some gift-able items that will make you feel less like a tourist when you travel to Germany because you'll know more about the culture and history. I promise they're fun too! Or maybe you're looking for ideas of what you want for yourself and add to your own Christmas list.
A gentle reminder that all links are affiliate links, and at no additional cost to you, purchases made after clicking these links will help keep this blog going by contributing towards web hosting costs.
Entertainment That Will Make German History Come Alive
I have two DVD series and a movie, all are German with English subtitles. Another great way to get an ear for the language too! Both of these series give you an inside look at the German's perspective, which as Americans is incredibly hard to come by. Deutschland 83 a TV mini series revolves around the Berlin Wall and espionage, and a second season is in the works! Generation War a TV mini series covers World War II from four very different German experiences.
Finally, the movie Good Bye Lenin, also involves the Berlin Wall, it specifically covers the time period of what the East Germans experienced right after the wall came down. Everything I've linked to are playable on USA and Canadian DVD players. With foreign films, always be sure to check what regions the movies will play in. For these, the Blu-Ray versions are only coded for Europe, so stick with the DVD.
Books That Will Impart German Culture
In case you missed it, the best German Historical Fiction book and German Historical Non-Fiction book I read this year that I couldn't put down.
German Historical Fiction: Women in the Castle by Jessica Shattuck. Here's my full review about Women in the Castle.
Historical Non-Fiction: House by the Lake by Thomas Harding. Here's my full review about House by the Lake.
Insider German culture tips guaranteed to make them smile? German Men Sit Down to Pee by Niklas Frank and James Cave. You'll think it's a gag, but actually very helpful! It's a small, lightweight paperback easy to pack.
For the cook in the family, Classic German Baking by German American author by Luisa Weiss . This book has been tested like crazy to make sure you can recreate German recipes utilizing what is available in American grocery stores.
For the foodie who is also a history-buff, I recommend this beautiful hardcover with heavy-weight paper, Beyond Bratwurst: A History of Food in Germany (Food and Nations). I learned about this book from the blog A Sausage Has Two: Seasonal, Regional German Food and Culinary Travel, and I bought it for myself. It's gorgeous!
Follow Along
If you enjoyed this article, or these topics sound interesting to you, you'll love our weekly newsletter. You'll receive the newest posts each week and exclusive access to free planning resources like 'Packing List & Tips for 2 Weeks in Germany' and 'Everything You Need to Rent a Car in Germany'.

Thank you for reading!