There are different methods of transportation that we have used in Germany over the years. We have boarded airplanes, rented cars and traveled by train. My favorite way to get around? That would be train travel and here are four reasons why I tend to choose spending hours on a train instead of another mode of transportation.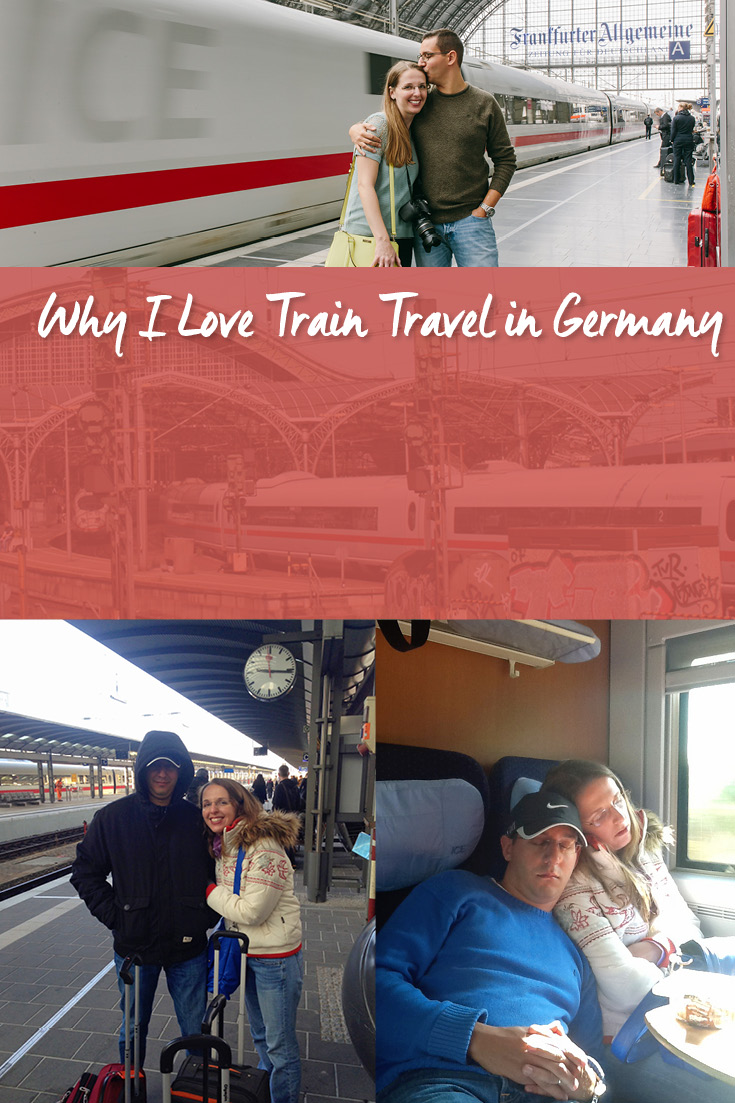 Reason #1 See More of the German Countryside
All trains have large windows where you can enjoy the landscape as it flies by (especially in the ICE high speed trains). You will see rivers, mountains, and small villages - all of which you miss when you fly or take the car on the Autobahn. Of course you can take rural roads with a rental car, but it will be slower and the driver will have to watch traffic much more than any landscape surrounding the car.
Board the train, find your seat, get comfortable and enjoy whatever you like to do. If looking out the window is not your thing, you can read, listen to music, or sleep a bit. Lots of high-speed trains have free Wifi (https://www.bahn.com/en/view/trains/on-board-service/wifi.shtml) and outlets to charge your devices and stay in contact with your family and friends back home. Just don't get too distracted and miss your destination while enjoying the comfort of the train.
Reason #2 No Luggage Restrictions
Bringing any kind of luggage onto an airplane these days, usually results in a fee you have to pay. This means extra income for the airlines and customers are willing to pay anywhere from $20 to $75 for this convenience. Not so on the train (or your rental car, of course). Bring as many pieces of luggage as you want, or are able to pull along with you. Even pack liquids and something to drink inside the train. No one will take it away from you.
Denise and I usually share a larger suitcase instead of two smaller ones. Most long distance trains have an extra area between seats where you can store your luggage. Otherwise you can lift it onto the rack above the seats, just make sure it is not too heavy and falls on your head.
Reason #3 Less Expensive
When comparing plane tickets or car rental prices to a train ticket, the train ticket is often your least expensive option, especially when you buy your ticket in advance and factor in the hidden costs. The airline might charge you extra for your luggage, even if it is just a carry on bag. And you better buy a preferred seating position with that, so you board the plane while overhead space for your carry-on is still available.
The same goes for the rental car option, which will have you paying for fuel costs and parking, not to mention all the extra insurance fees they try to add when you pick up your car. If you want to know more about this, read our earlier article, What to Consider When Renting a Car in Germany.
The best way to get your hands on an inexpensive train ticket in Germany (usually half-off) is to book 70-90 days before your trip on the website of the Deutsche Bahn.
You can get tickets for as low as 29 € per person for long trips, but ticket prices go up as the departure date draws near, so plan accordingly, and buy early. Denise and I will create a calendar event exactly 90 days before in order to get the best train ticket price. When its time to buy, simply enter your destination, date and approximate time on the Deutsche Bahn website and you will be given a range of options to choose from. When reserving your train ticket, you pick your favorite connection and have the option to purchase reserved seating for about 5 € per person/train. There are no other fees added on after you check out. I highly recommend purchasing a seat, especially if you are on the train for several hours or travel with a larger group of people.
You will also see that some connections will be faster, some slower. Here is a ranking from fastest to slowest trains:
• ICE (Inter City Express) usually pronounced 'Eye See Eee', are the fastest German trains
• IC (Inter City) trains are a bit slower than ICE trains with a few more stops along the way
• RB (Regional Bahn) and RE (Regional Express) tend to be highly localized with lots of stops. You will see more of the countryside, on IC/RB/RE trains, but travel time can be up to double compared to an ICE train.
Reason #4 Simply, Faster
In Germany you might overhear someone saying, that the train is "late, again". Some trains are notorious for running late and Germans, always punctual, are notorious for complaining about this fact. However, I still believe taking a train is the fastest option, and here is why. A train ride from Frankfurt to Paris, France will take about 4 hours. A car ride will take 5 ½ hours, if there is "normal" traffic on the Autobahn 4 from Frankfurt to Paris. It takes longer due to the lower speed limit in France, which is 130 km/h (80 mph). A train can go as fast as the tracks will let it and reaches speeds up to 200 mph on some track parts.
So driving can't compete with taking the train, which leaves us with flying. A plane ride from Frankfurt to Paris takes only 1 hour 10 minutes. However, if you add transportation time to the airport (most are not in the city center, unlike train stations) and being there about 2 hours before your flight takes off for security checkpoints and boarding, the journey will most likely take longer than 4 hours. Keep in mind that the security check at the airport might slow you down, also. Oh yeah, and you have to pay for your bags and deal with less legroom on a plane.
What is your favorite mode of transportation while visiting Germany? Let us know in the comments.
Bonus Germany Train Travel Resource: If you're new to train travel, do yourself a BIG favor and read Lorelei's Your Complete Guide to Using the Deutsche Bahn in Germany. Its a wonderful resource for newbies, full of photos and explanations. We thought of doing one ourselves, and stumbled upon Lorelei's and realized she left NOTHING out. Bookmark it, and you'll thank yourself later.
Follow Along
If you enjoyed this article, or these topics sound interesting to you, you'll love our weekly newsletter. You'll receive the newest posts each week and exclusive access to free planning resources like 'Packing List & Tips for 2 Weeks in Germany' and 'Everything You Need to Rent a Car in Germany'.

Thank you for reading!