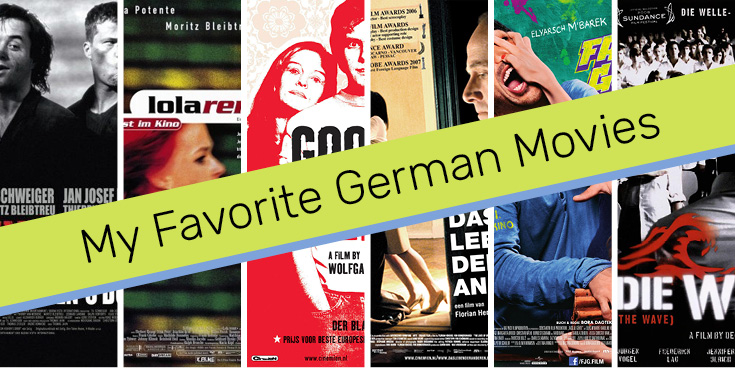 With the rise of streaming services like Netflix or Amazon Video, it is much easier to watch foreign movies from wherever you are in the world. Years ago a list like this would have been useless, because a German DVD or videocassette would have to be mailed over the Atlantic and subtitles would have not been included. You simply had to understand the language in order to follow the movies. Today it is a simple click to activate the subtitles and immerse yourself into a movie that shows you a completely different world, with actors you might have never seen before, speaking an unknown language. Not all of the movies will be on your favorite streaming platform, due to contract expirations and renewals and most of them will be in German with English subtitles. If the movie of your choice is not streaming currently, check out Amazon or eBay for a used DVD copy.
Lastly: This is by no means a critically-acclaimed list, but rather a list of movies I have enjoyed and re-watched. The films on this list are in chronological order, sorted by the year of release from oldest to newest. I purposely did not rank them because, to me, they are impossible to rank, since each has its own subject matter and contemporary feel.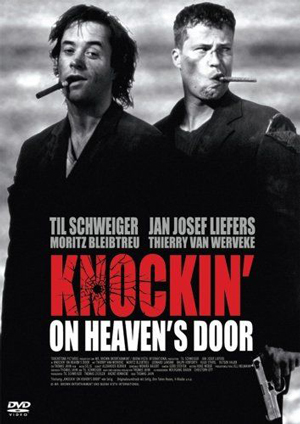 Knockin' on Heaven's Door (1997)
This so-called "Roadmovie" was the most successful German movie of the year 1997. The movie is about two deathly ill men, Rudi Wurlitzer (Jan Josef Liefers) and Martin Brest (Til Schweiger), who share a hospital room and neither have much time to live. Their last wish is to drive to see the sun set on the ocean. Since neither have a car, they decide to steal a Mercedes from the hospital's parking lot. What the two do not know is that a large amount of money is hidden in the trunk of the car and the money belongs to some criminals, who are now chasing them.
This movie is very entertaining with its action scenes, even though it has some very serious moments, when the two doomed actors face their deadly disease. What makes Knockin' on Heaven's Door worth seeing after all these years is the entire cast of great actors, and the fact that you see the world differently if there is nothing else to lose. Click here to see the trailer on YouTube.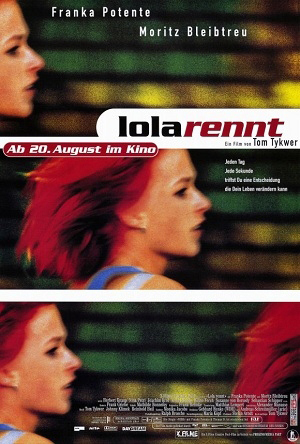 Lola Rennt (1998) English Title, Run Lola Run
This fast and dynamic thriller captures the vitality of Germany in the 1990's in an outstanding way. It starts out capturing a normal day in Berlin showing Manni (Moritz Bleibtreu), who moves cash for an organized car theft gang. The simple task becomes a problem, when he leaves a bag full of cash behind, unable to retrieve it himself. He calls his girlfriend Lola (Franka Potente), who will start running in order to retrieve the bag and deliver it before the deadline, which is 20 minutes away. The movie combines elements of slow motion, split-screen technology and 360 degree rotating camera angles, resulting in a firework of technical possibilities. Overall a fast-paced film with an unusual, innovative and visually capturing concept, keeping the viewers guessing, if Lola makes the right or wrong choices while she is running. Click here to see the trailer on YouTube.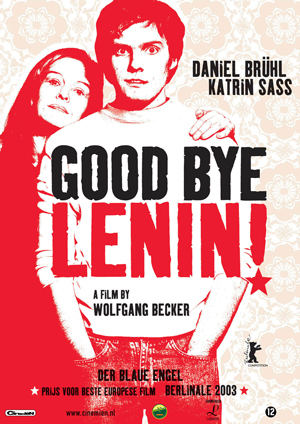 Good Bye, Lenin! (2003)
On the day of the 40th anniversary of the GDR, convinced socialist Christiane Kerner (Katrin Sass) falls into a coma after a heart attack. It overshadows the fall of the German Wall and the entry of capitalism into the socialist state, which now no longer exists. When she unexpectedly awakens from the coma, her son and daughter try to spare her weak heart by concealing their bedridden mother from the world-moving events of the last few months. They create the illusion that the GDR, at least on a small scale, survived and is still active. This, of course, involves some difficulties, from the procurement of Spreewald brand cucumbers to the songwriting of old songs. Watching the trailer might make you think that this is a comedy, which it does have jokes and funny elements to it. However, it is more of a tragicomedy, with the main focus on the changes that turn the everyday life of a young adult son Alex (Daniel Bruehl) completely upside down within a few months. In addition, the film combines a lot of archival material from the time of the German Reunion and lets the viewer feel the importance, but above all also the emotionality of this event. Click here to see the trailer on YouTube.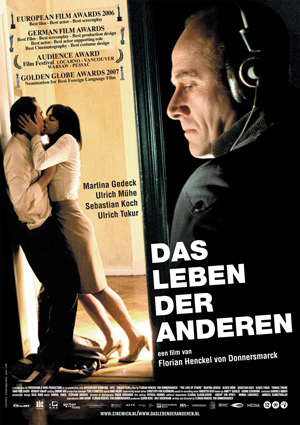 Das Leben der Anderen (2006) English Title, The Lives Of Others
That life in the GDR was not only fun & games, should be well-known by now. The movie "Das Leben der Anderen" describes the political regime of the former GDR as a highly paranoid spy and control system, where the state stalks down into the smallest detail of the private life of its citizens, ensuring the "safety" of all its citizens. Major Gerd Wiesler (Ulrich Mühe) is set to spy on the popular playwright Georg Dreymann (Sebastian Koch). However, Dreymann is not subject to regular ideological scrutiny, but should be brought to his downfall in order to boost the career of a politician. What Major Wiesler did not expect, was that the observation would drastically change his point of view. Diving into "the lives of other" - their love, thoughts and daily routines - makes Wiesler aware of the poverty of his own existence and opens up a never-before-seen world. This movie is a drama with thriller qualities, which even received an Oscar as best foreign film - well deserved in my opinion. Click here to see the trailer on YouTube.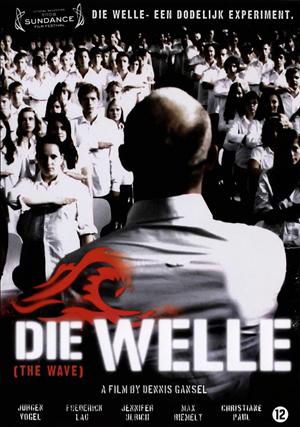 Die Welle (2008) English Title, The Wave
How was it possible that a whole country simply accept Nazi rule? Why did no one resist? One possible answer was an experiment conducted by the history teacher Ron Jones in 1967 in a school in Palo Alto, California. In order to demonstrate to his students the fascination of Fascism, the teacher creates a movement, whose principles are based on discipline, community, and action. Strict rules are introduced, such as a dress code for the "members" and group emblems surface all over the school, non-wave members are harassed and the whole experiment spirals out of control. This movie, based on a true story, is an exciting and serious movie about the creeping poison of extremism and intolerance. However, some scenes can be a bit graphic and violent for young viewers in your family. Click here to see the trailer on YouTube.
Fack Ju Göhte (2013) English Title, Suck Me Shakespeer
The last movie on this list is a goofy comedy and was the most successful German movie of 2013. The movie starts out with Zeki Mueller (Elyas M'Barek), who, after his prison release, learns that his buried heist money on a school ground was covered up by a new high school gymnasium. His solution to get to the loot: get hired as an auxiliary teacher and drill a tunnel underneath the gymnasium. Easier said than done. The students use their cell phones in the classroom, chew gum, and lack any respect for the teacher. The movie is, of course, a bit predictable and not realistic (what teacher shoots his students with a paintball gun?), but also very amusing, universally comprehensible, colorful and yet distinctively German. Click here to see the trailer on YouTube.
Follow Along
If you enjoyed this article, or these topics sound interesting to you, you'll love our weekly newsletter. You'll receive a free Germany Packing list for signing up, and you'll receive each week's newest posts every Friday. Thank you for reading!