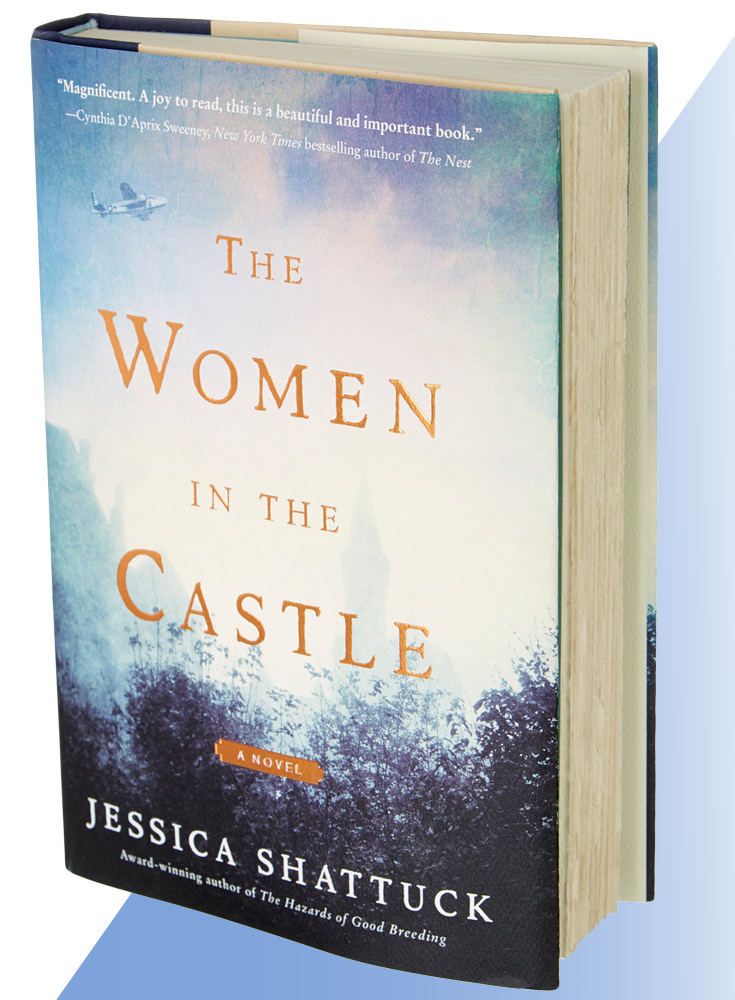 Disclosure: Please note that some links are affiliate links, and at no additional cost to you, we earn a commission if you make a purchase. I recommend this book because I loved it. I was not asked to review this book, and I purchased my own copy. If you are ready to buy a copy, and would like to support this website in some way, using these links will help do exactly that.
I'm always hunting for historical fiction that enables me to time travel as a fly on the walls of history, forsaking a slice of my present everyday life in glad exchange. If the book provides a peek into German history and culture, I'm all the more curious given my husband's German heritage.

When I first saw The Women in the Castle by Jessica Shattuck appear in my search results on Amazon, I was leery. Not another World War II novel I sighed. But, by the end of the prologue, I was mesmerized. It explores a facet of German History that I never knew existed. Have you ever thought about the family of the conspirators who tried to assassinate Hitler? I had never contemplated this question. This thoroughly researched novel presents three viewpoints from three very different women. Marianne, the central character, made a promise to the conspirators (her husband and friends who attempted to assassinate Hitler), that if the plan failed she would take care of the families they left behind. When the war ends she finds two other widows and their young kids and for a time they all take refuge and survive the aftermath of World War II in Marianne's husband's family castle.
So, What Makes it a Page-Turner?
I finished The Women in the Castle in roughly three days between sightseeing in Germany. There are plot twists and surprises that took me off guard. The characters' experiences are so diverse, all of which offer new insight into what it must have felt like to live during this period. As a reader of The Women in the Castle, you'll be in the room of the conspirators who see Hitler as the enemy and are willing to stop at nothing to see him overthrown. You'll be six years old, living in an orphanage of other resisters' children, undergoing the very indoctrination the parent died fighting against. You'll shadow ordinary German citizens who volunteered to lead a Landjahr lager, Country Service Year Camp, propelling Hitler's vision from the early beginnings of the Reich to the bitter end. Reading this novel changed my perception of the WWII experience for Germans in many ways.
This novel combines research with heart-felt storytelling, intertwined with innovative word choice and marvelous metaphors. For example, on page 24, "Benita was sick to death of desperate people. Berlin was bad enough, with it's carousing Russians and half-starved virgins hidden in cellars, it's countless dead-some still buried in the mountains of rubble-and it's stinking, overcrowded bomb-shelters-turned-refugee-camps. And the route west had been even worse, clogged with all manner of suffering and human detritus. It was if the great continent of Europe had shrugged and sent everyone rolling."
Also, on page 301, "Sitting here, on this weather-beaten porch, with it's brittle railings and the dull pounding of the sea below, he felt a gray bloom of failure. This was why it had been so long since he had last seen Marianne. She was the gardener of this ugly flower. She knew just how to turn it's face to the sun."
I highly recommend this book! This also would be a unique gift idea for someone traveling to Germany. I discovered The Women in the Castle by Jessica Shattuck on Amazon. If you're interested, you can find it on Amazon here, (available on the Kindle, or in hardcover or paperback) or it can also be downloaded from iBooks®.

Do you have any recommendations for historical fiction books set in Germany? I'm always looking for suggestions. Leave a comment below or send us an email.

Follow Along
If you enjoyed this article, or these topics sound interesting to you, you'll love our weekly newsletter. You'll receive the newest posts each week and exclusive access to free planning resources like 'Packing List & Tips for 2 Weeks in Germany' and 'Everything You Need to Rent a Car in Germany'.

Thank you for reading!